?All You Can Eat? Cabbage Soup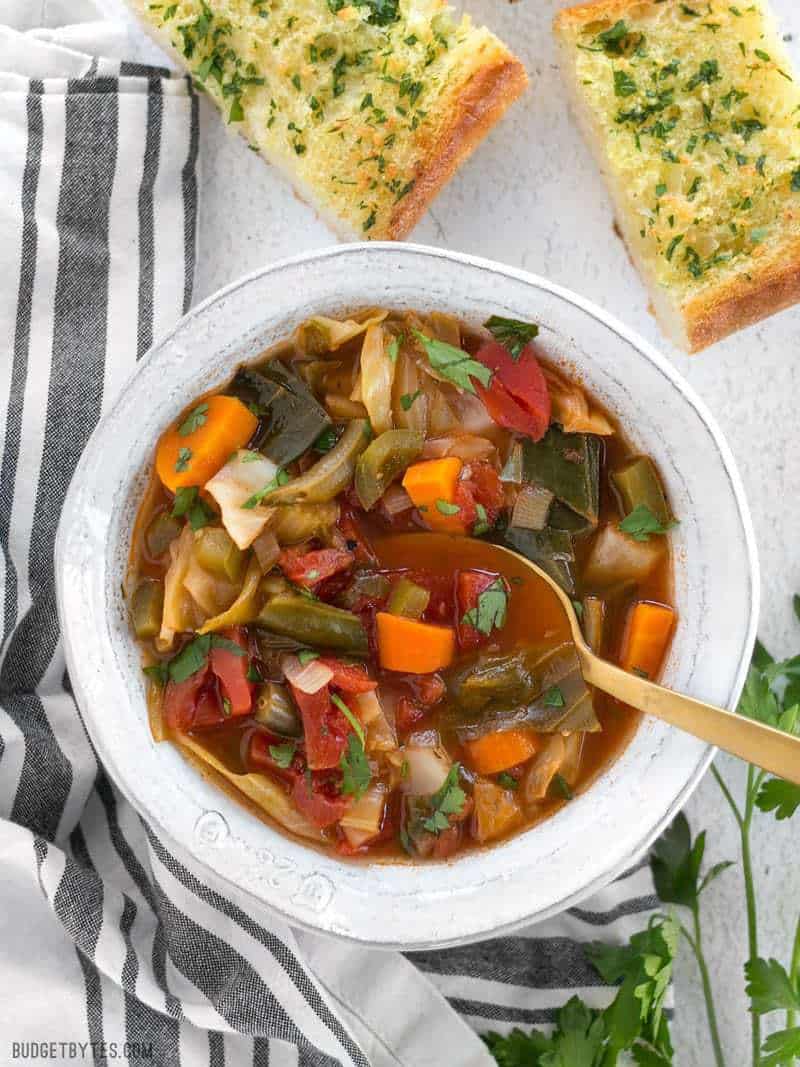 Do you remember the cabbage soup diet" It was one of those crazy fad diets where you were supposed to eat as much as you want of just one thing (in this case cabbage soup) and you'll lose weight without trying. While I would never advocate eating just one thing over and over, I have to say that I AM a big fan of this cabbage soup. Why" For one simple reason?it's absolutely deeeee-licious. Yeah, I was surprised too. The first time I had this famed diet soup I expected it to be boring at best, but I was pleasantly surprised by an extremely flavorful and comforting soup that had me coming back for seconds, and even thirds.
This cabbage soup recipe has taken many forms over the years, but they all have one thing in common?they're chock full of non-starchy vegetables swimming in a flavorful herb-filled broth. I like my broth a bit more tomatoey, so I added some tomato sauce to thicken it up. Some people use V8 instead, but tomato sauce is much less expensive, especially when only a small amount is needed. I also added a bit of smoked paprika (because that's my fav), and a splash of lemon juice at the end to brighten it up. Why am I calling it All You Can Eat Cabbage Soup" It's kind of a tongue-in-cheek reference to the old fad diet, but seriously, eat as much as you want. The more the better, really. It's just a bunch of vegetables and I don't think any of us are guilty of getting too many vegetables in our diet, right" Didn't think so. And guess what" This cabbage soup is insanely inexpensive, too! So eat up!
(Just because I'm a rebel, I served my healthy "diet" soup with plenty of buttery homemade garlic bread. What can I say, I live fast and hard.)
All You Can Eat Cabbage Soup
All You Can Eat Cabbage Soup Save Print Prep time 20 mins Cook time 35 mins Total time 55 mins Total Cost: $7.89 Cost Per Serving: $0.99 (2 cups each) Serves: 16 cups I...
URL:
http://www.budgetbytes.com/
-------------------------------------