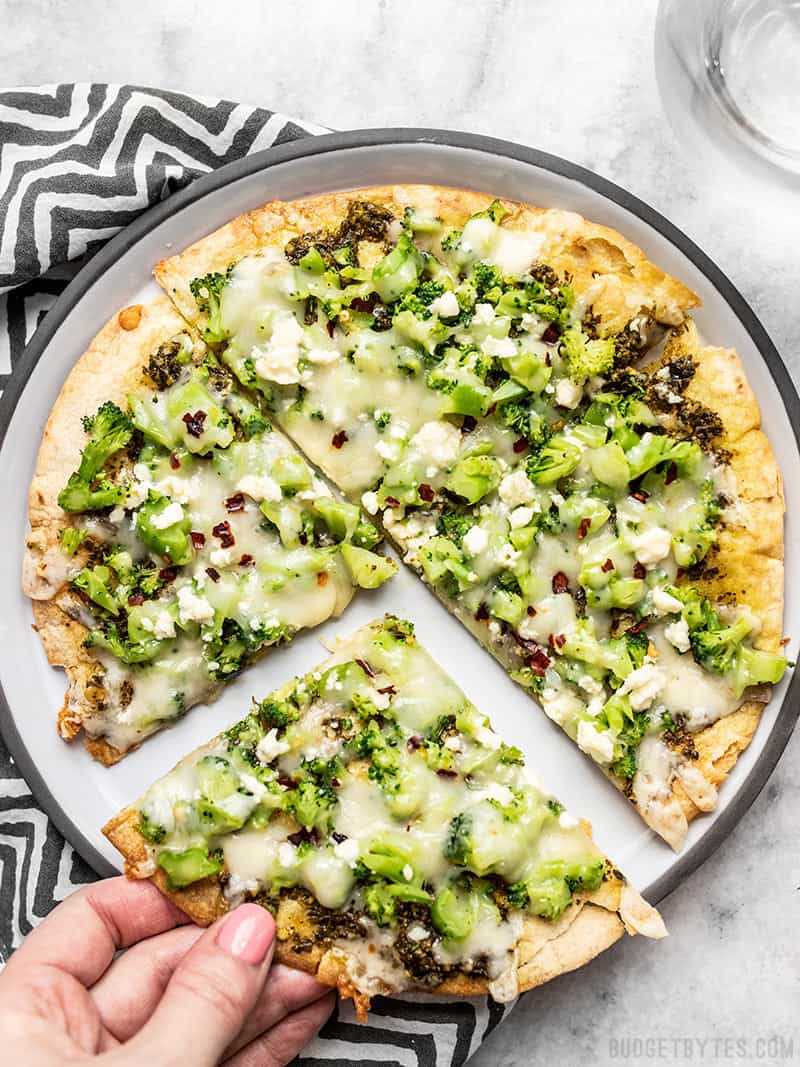 ?Quick Fix? Broccoli Pesto Pizza
Welcome to another episode of Random Things Beth Makes with Leftovers in Her Fridge! This week it's a super Quick Fix Broccoli Pesto Pizza that totally surpassed my expectations. I'm definitely going to be making this one again,...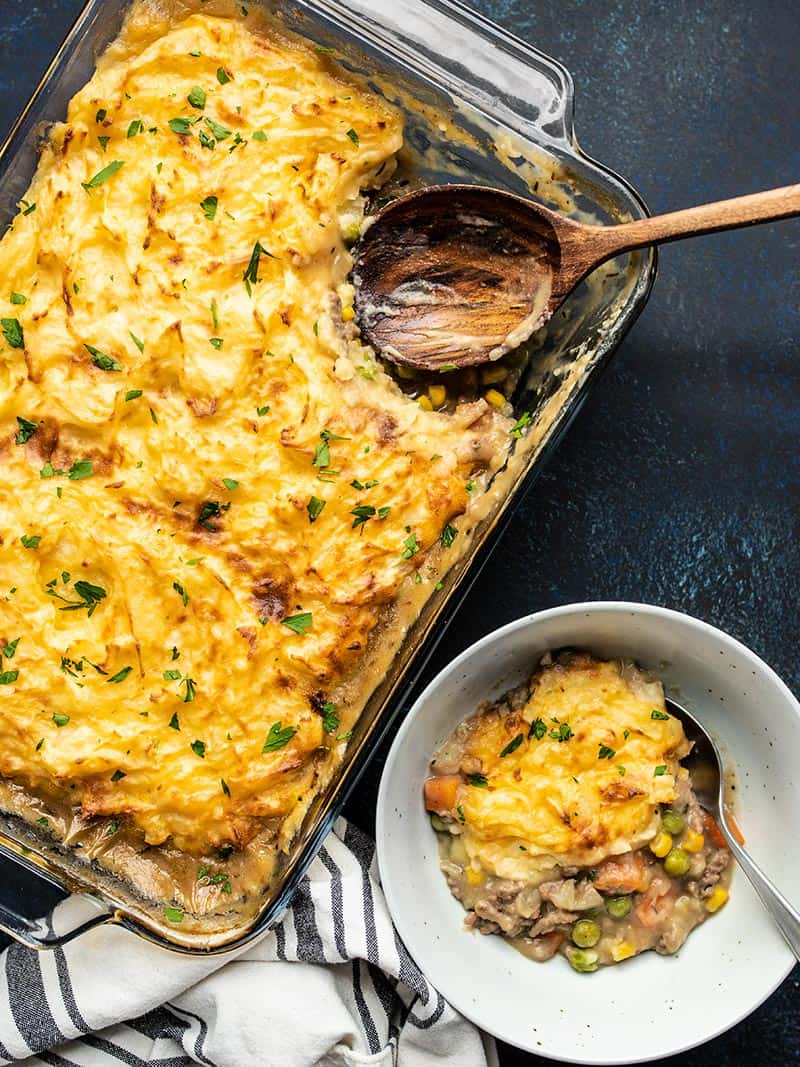 Cheesy Cottage Pie
Okay, I'm going to squeeze in one more wintry comfort food dish before the weather really starts warming up! This Cheesy Cottage Pie is chock-full of vegetables in a rich beef gravy, and topped with a layer of super smooth and creamy cheddar...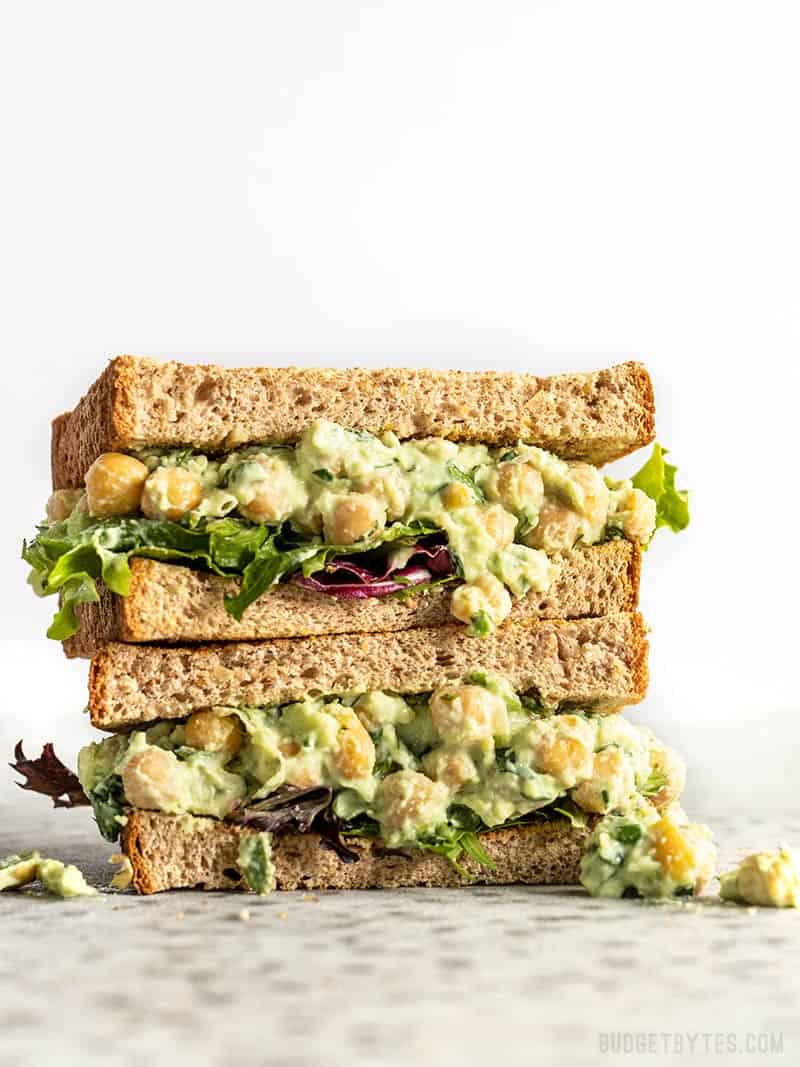 Scallion Herb Chickpea Salad
This Scallion Herb Chickpea Salad, is light, bright, filling, and just perfect for spring (please spring, come quickly). The dressing is creamy but still light, and is bursting with fresh vibrant flavors. This salad is quick to throw together and...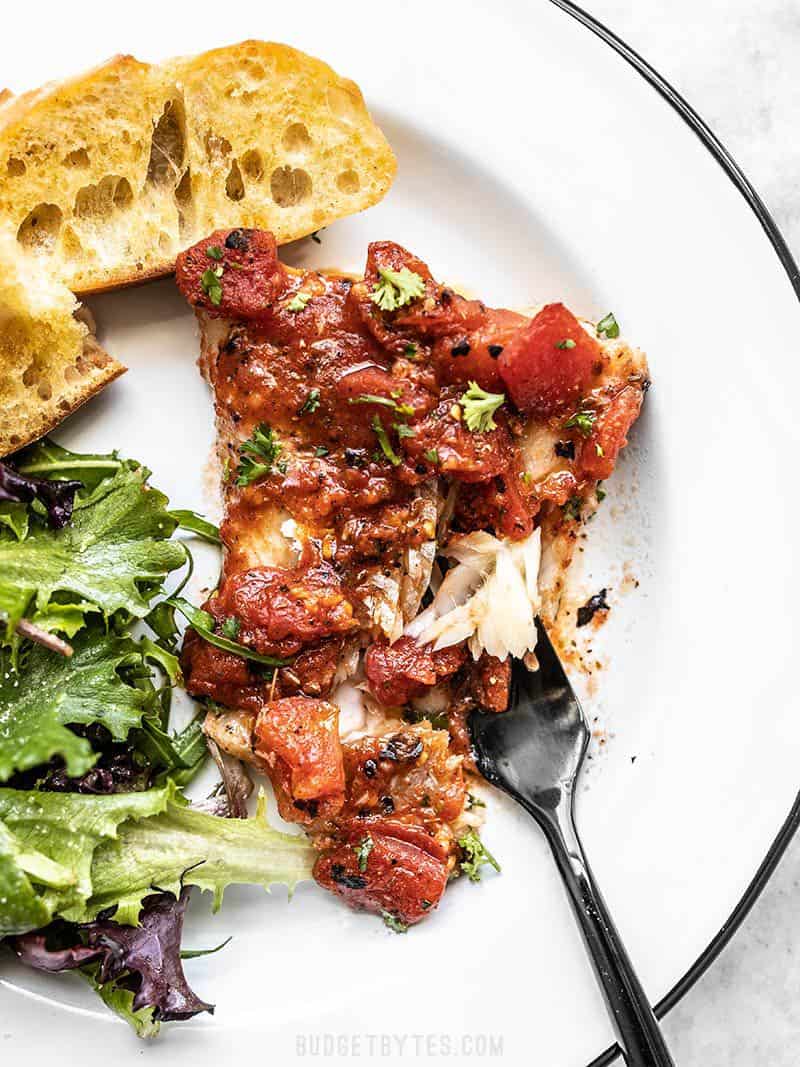 Easy Oven Baked Fish with Tomatoes
If you're intimidated by fish, this Easy Oven Baked Fish with Tomatoes is a great place to start. Baking the fish in a mixture of tomatoes, garlic, and herbs infuses flavor, helps keep it moist as it bakes, and reduces the chances of over...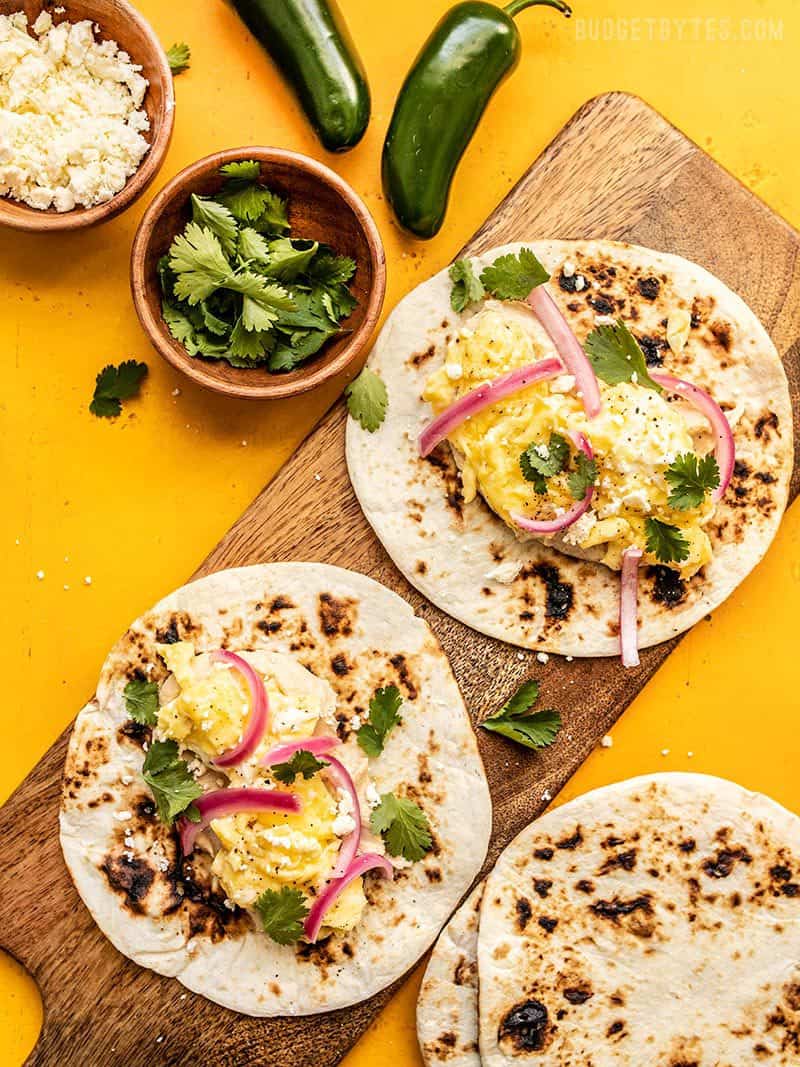 Hummus Breakfast Tacos
If you've been hanging around Budget Bytes for a while, you might already know how awesome eggs and hummus are together. If not, let these Hummus Breakfast Tacos be your introduction. The egg-hummus base to these tacos offers plenty of flavor,...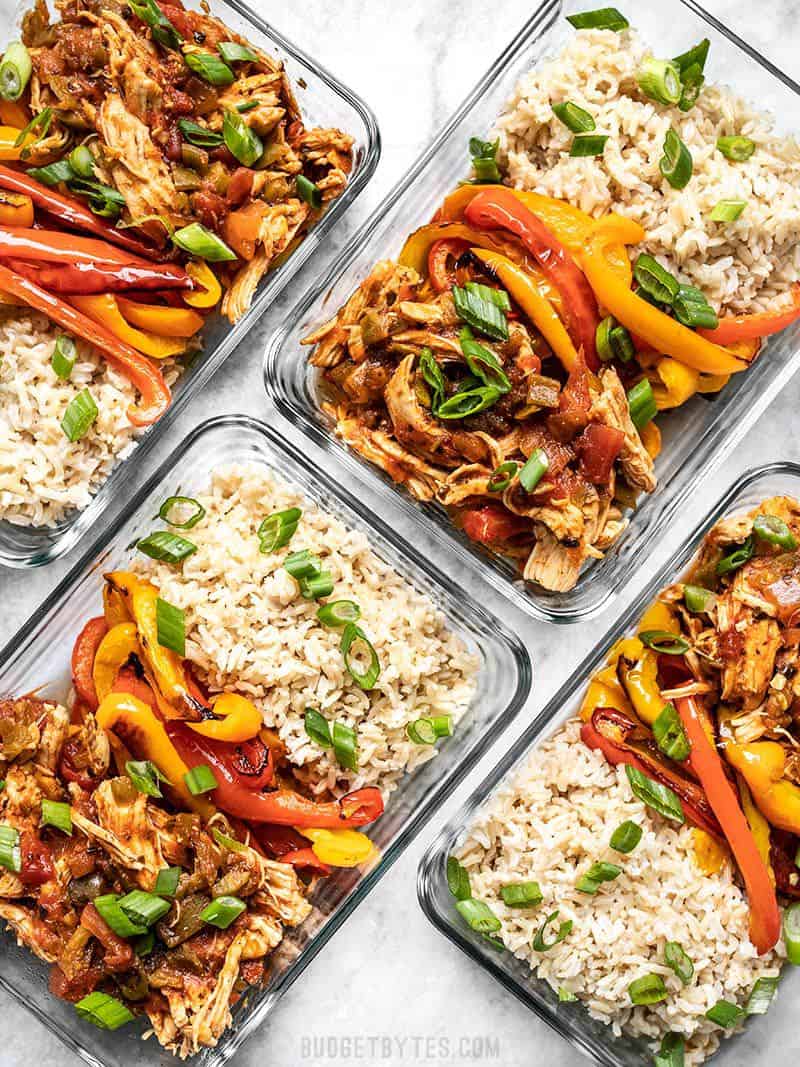 Salsa Chicken Meal Prep Bowls
I went down the rabbit hole of looking at diet or macro-friendly meal delivery services online the other day. It's a booming business these days and I was really curious about what kind of food these services offered. What I found were...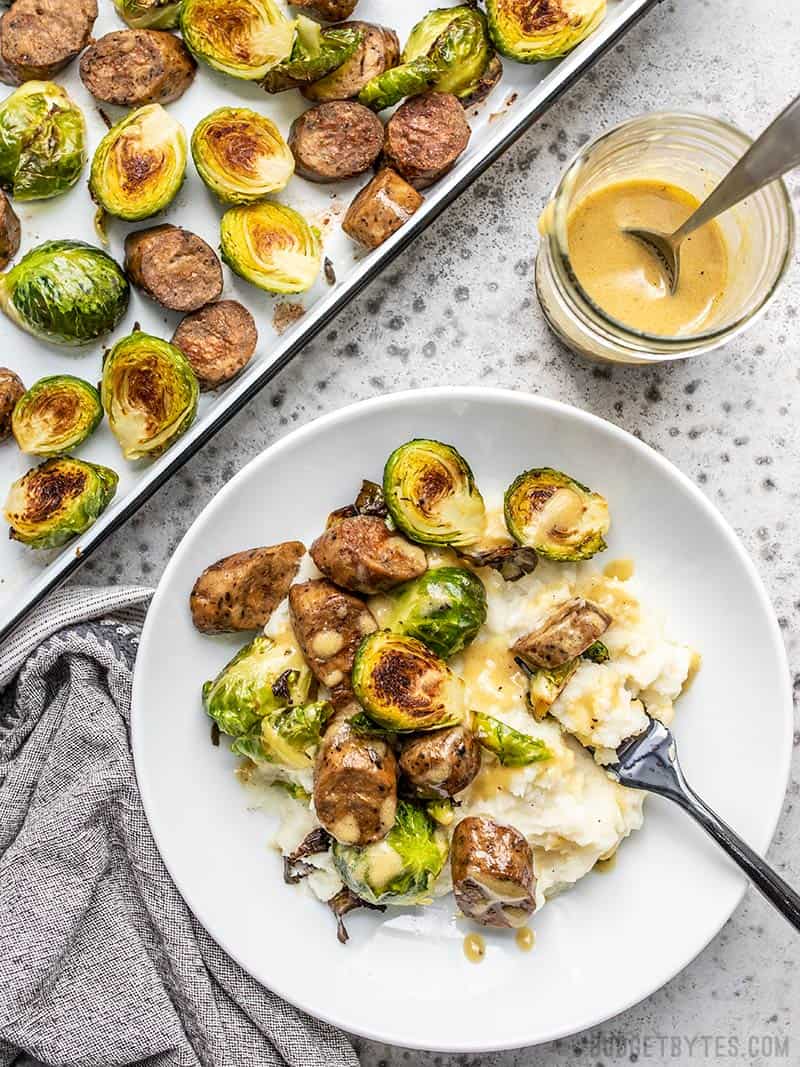 Roasted Brussels Sprout Bowls
One of the best parts about recipe testing is that when you stumble onto something good you have a great excuse to make it over and over again while you tweak the details. I've been enjoying variations of these Roasted Brussels Sprout Bowls...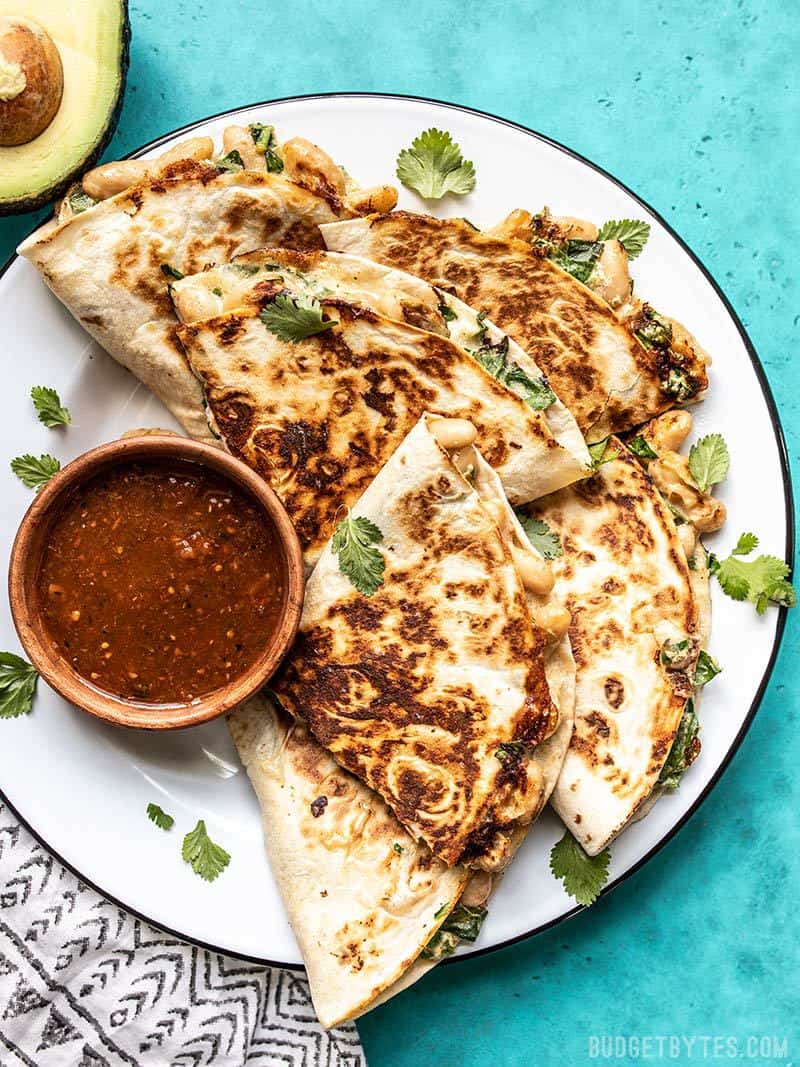 Creamy White Bean and Spinach Quesadillas
This is like, "the week of quesadillas" at my house. LOL. When the concept for these super easy creamy quesadillas first came into my head I couldn't decide whether to make them with chicken or do a vegetarian version, so I just...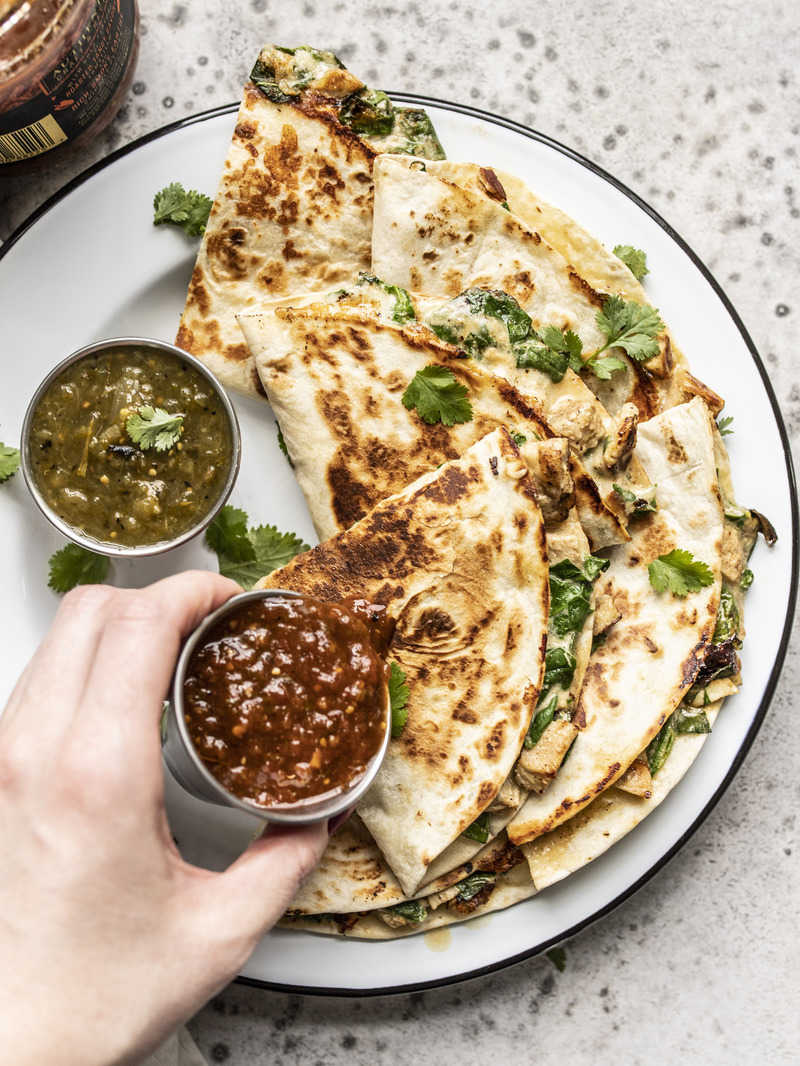 Creamy Chicken and Spinach Quesadillas
Y'all know how I love a good quesadilla, right" My unofficial motto is, "everything is better in a tortilla with cheese." I have several awesome quesadilla recipes on the website already, but I wanted to make one that was...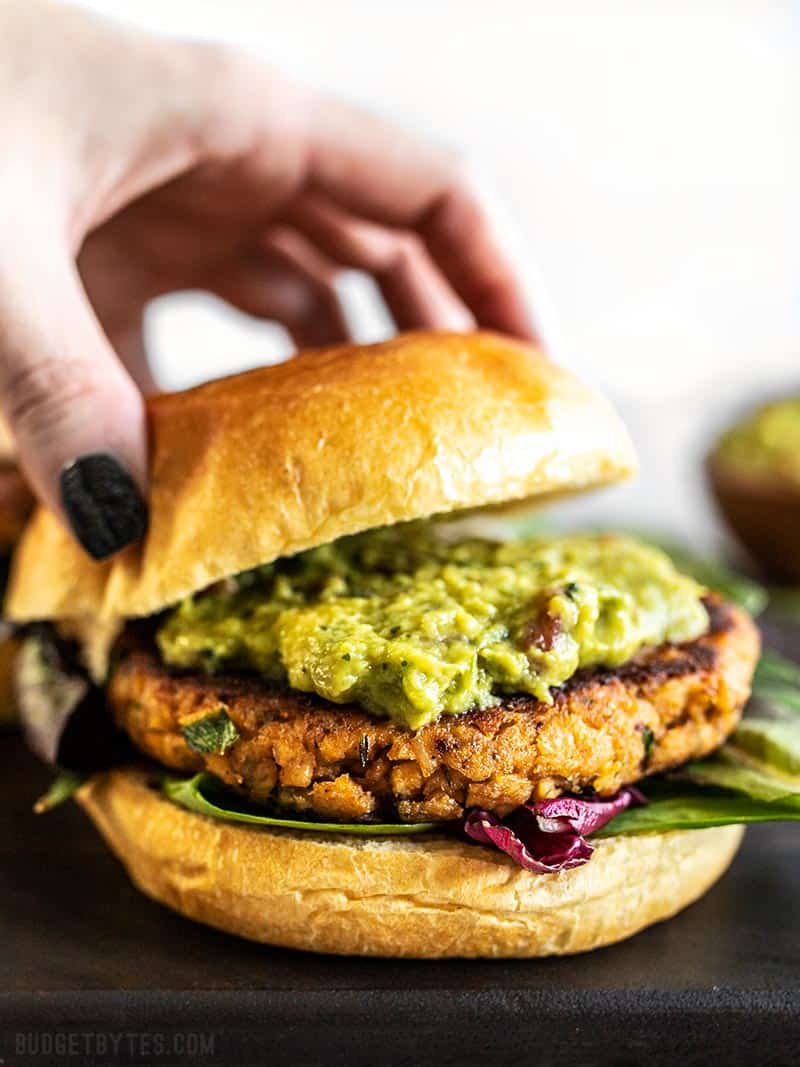 Cajun Salmon Burgers
My interest in canned salmon has recently been reignited, so I decided to start playing around with it again. I figured a good salmon burger would be a great place to start, but I wanted to make it a little more special. So, I threw some of my...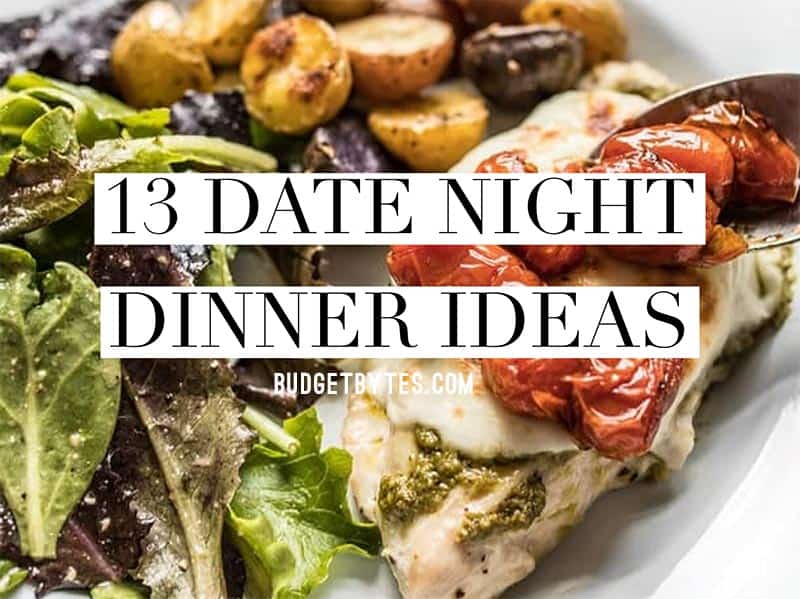 13 Date Night Dinner Ideas for Valentine?s Day and Beyond
Some of my favorite emails from readers are the ones describing how learning to cook together as a couple has been a highlight of their relationship (I even got invited to a wedding once!). Every task is more fun when you do it with a friend, and...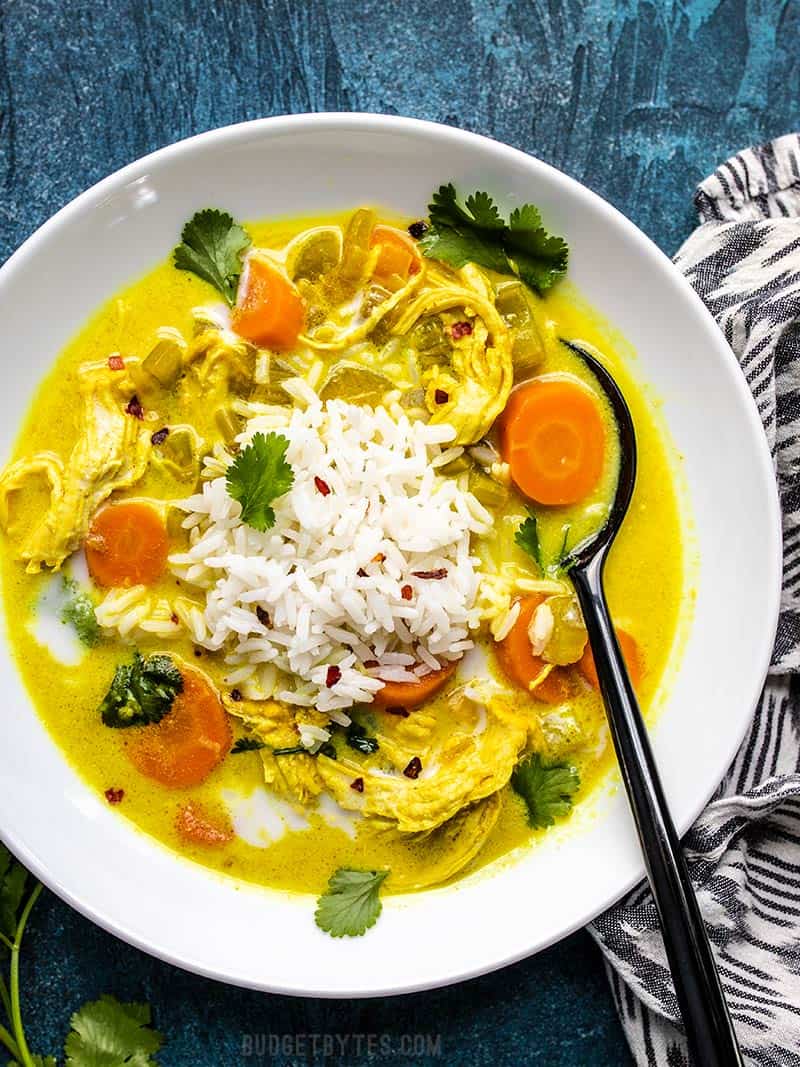 Coconut Turmeric Chicken Soup
It's self care Saturday over here at the Budget Bytes house and I'm eating this super cozy Coconut Turmeric Chicken Soup. With chilly temps outside I knew I wanted to make a pot of chicken soup, but decided to change up my classic...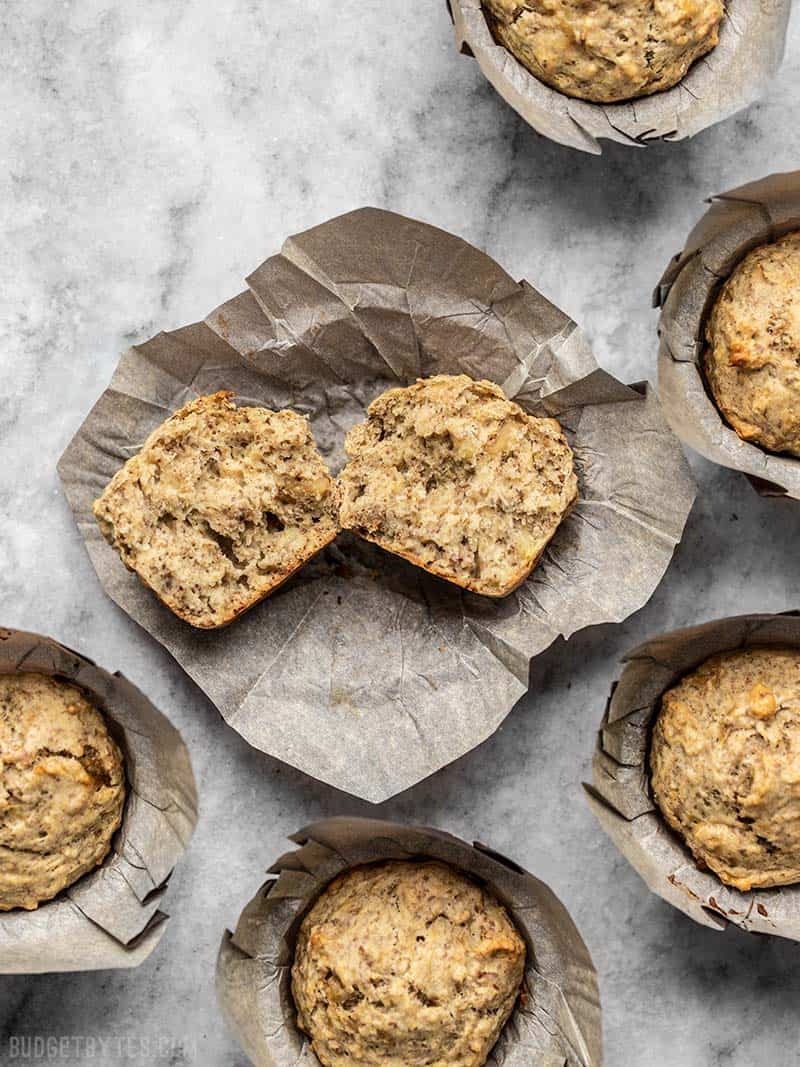 Banana Flax Muffins
I'm going to start this by saying that I am not an expert baker. I really don't bake often, but I started playing around in my kitchen the other night with a bunch of brown bananas that I had, and I made these banana flax muffins that I...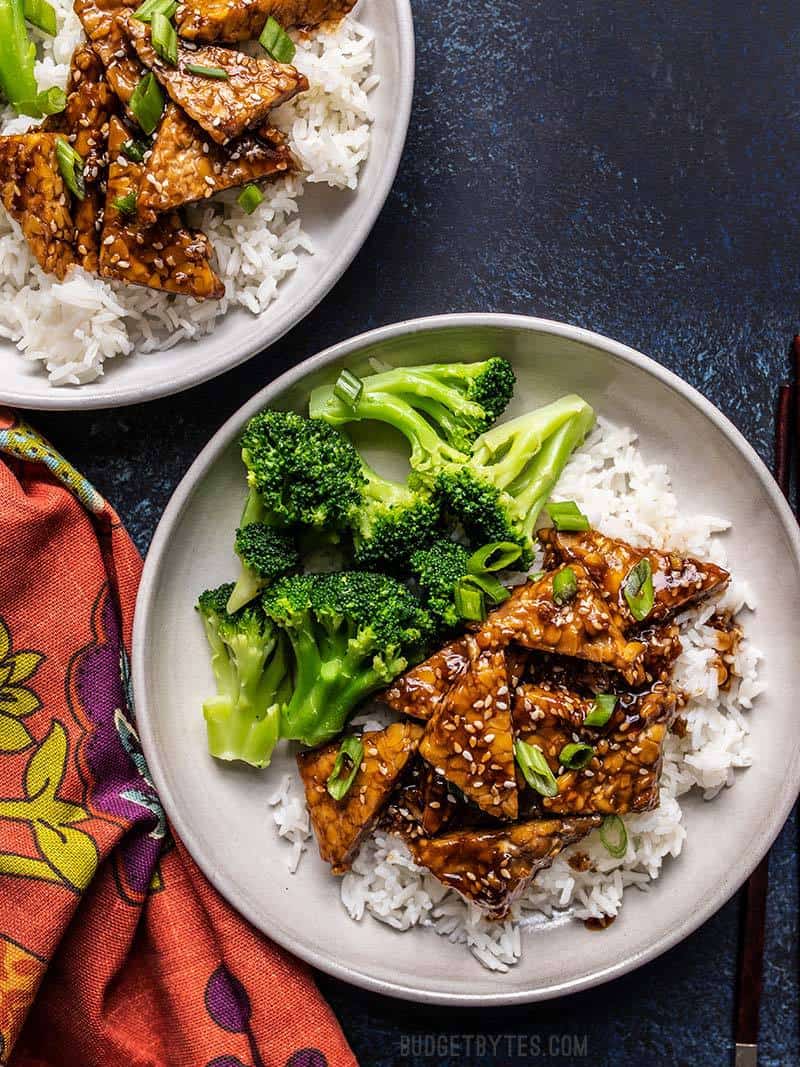 Sesame Tempeh Bowls
It's only been two days since the Vegetarian Challenge ended, but my stomach is already like, "Whoa girl, take it easy. I thought I told you before not to change things up so suddenly!" Fair enough, stomach. Here is some high-fiber...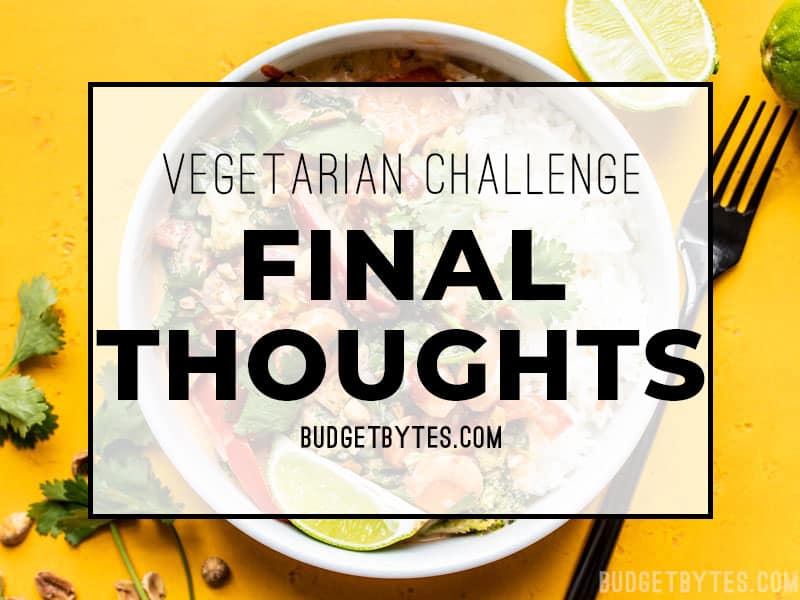 Vegetarian Challenge Final Thoughts
Every time I do a challenge I learn so much about myself. I set out on this 31 Day Vegetarian Challenge intending to increase my vegetable intake, reduce my dependency on pasta and cheese, and build some all around healthier food habits in the...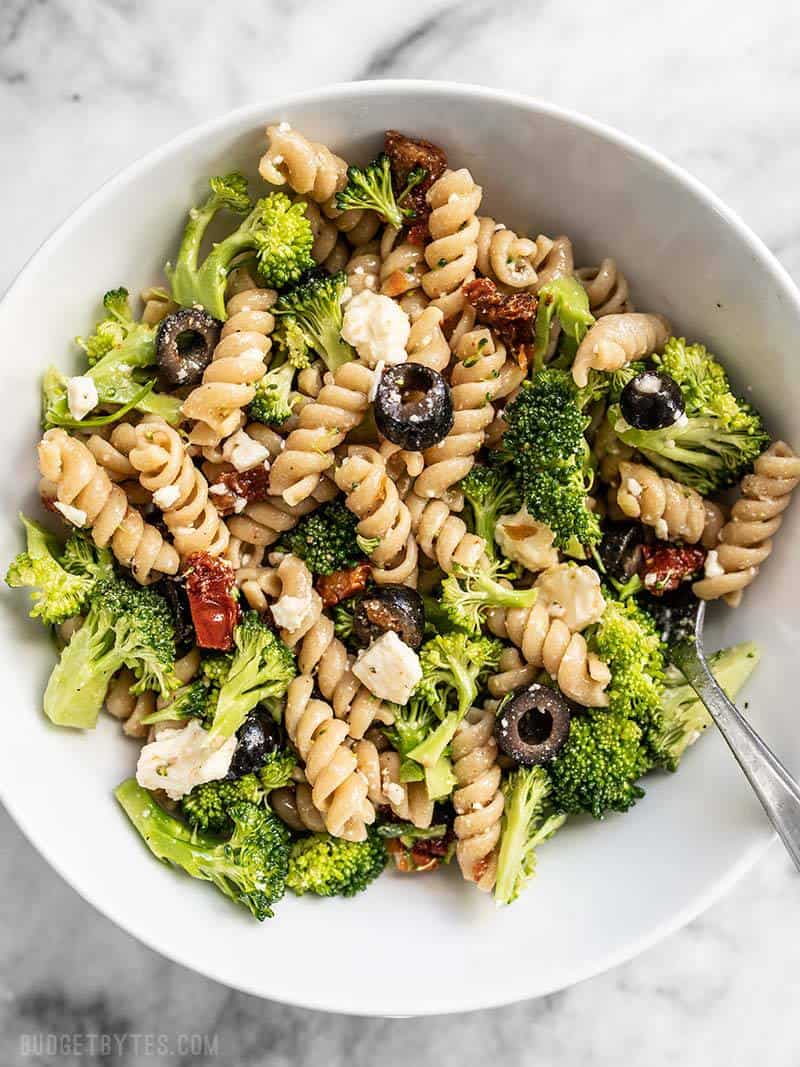 ?Sweep the Kitchen? Pasta Salad
Despite having a website is full of recipes, in real life at least half of my meals are "sweep the kitchen" or "throw together whatever you have" type meals. Even though they're not exactly "recipes" I like...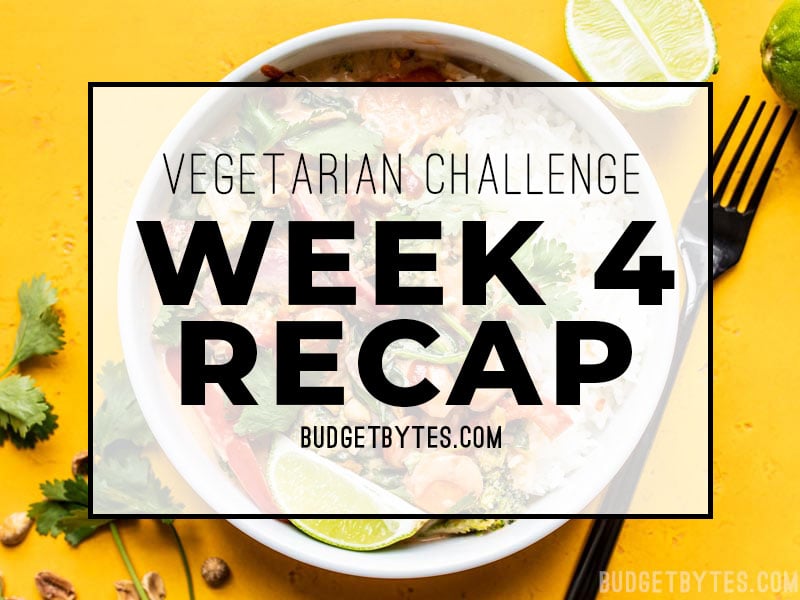 Vegetarian Challenge Week 4 Recap
Hey guys!! Four weeks down and just a few days to go! It's so interesting to me how much my experience changes each week with this vegetarian challenge. With so much leftover food in the freezer from weeks 1-3, I scaled back my cooking even...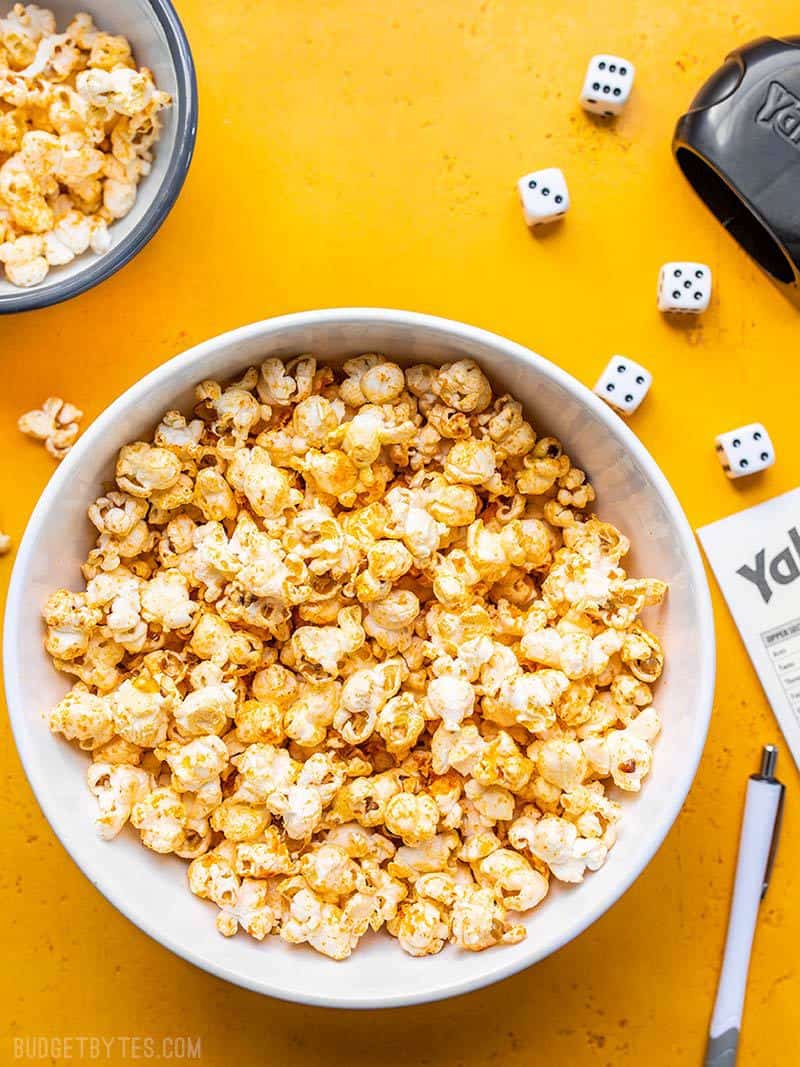 Sriracha Nooch Popcorn
Salty-crunchy snacks are my vice. But since chips are silly expensive (IMHO), I keep popcorn on hand at all times. Popcorn only takes about 5 minutes to make and the flavor possibilities are endless. Nooch popcorn (popcorn with nutritional yeast) is...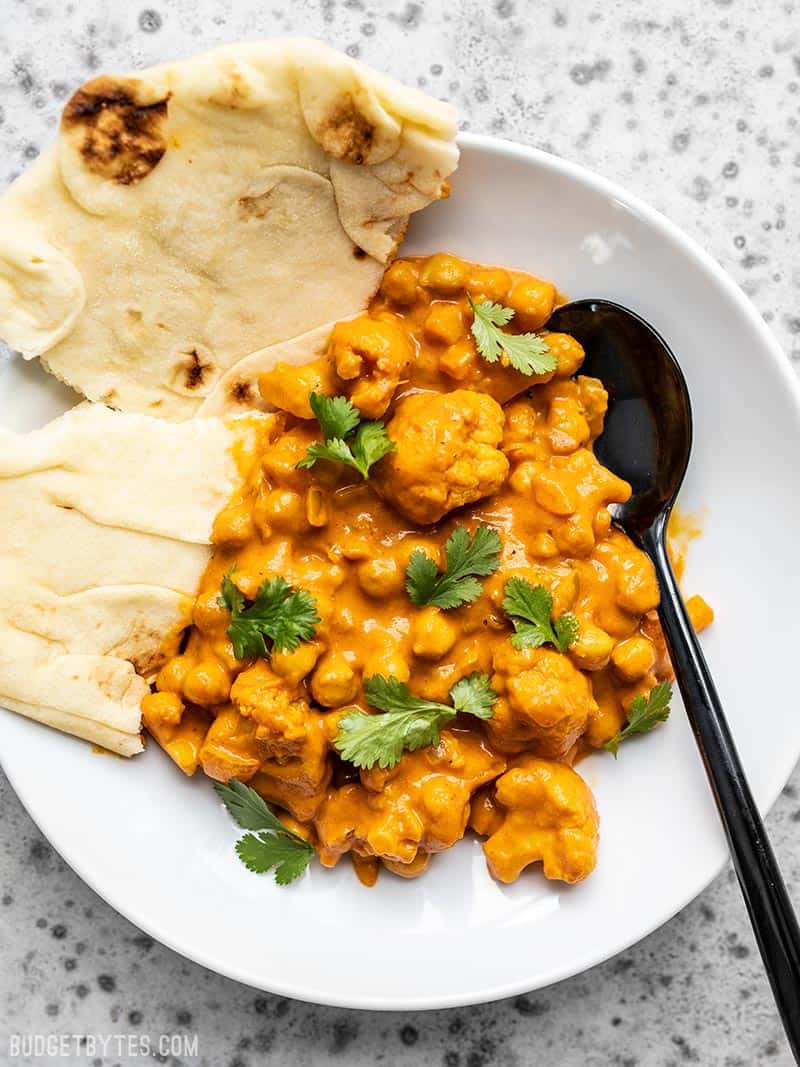 Easy Cauliflower and Chickpea Masala
This super easy, ultra creamy, and heavily spiced Cauliflower and Chickpea Masala is my new favorite dinner! That spicy-creamy sauce is just so ?that I have to sop up every last bit with a piece of naan. This dish comes together super fast, requires...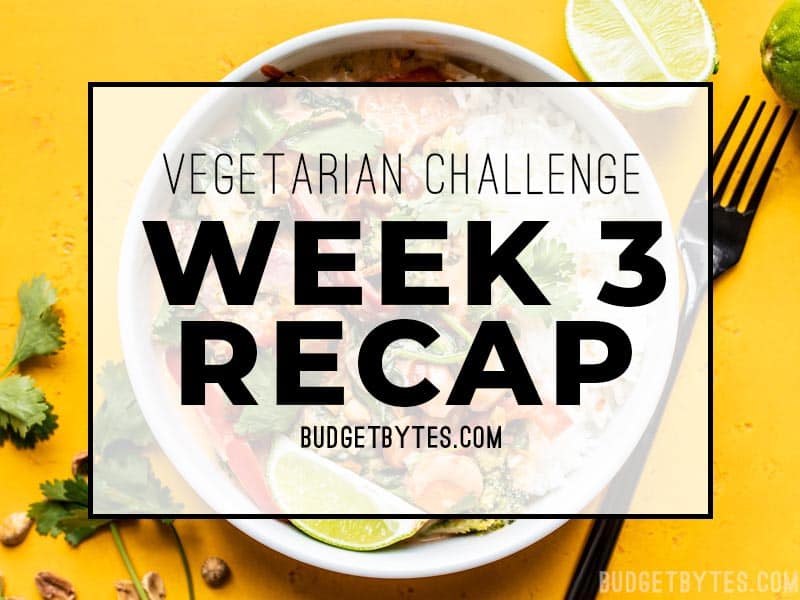 Vegetarian Challenge Week 3 Recap
January is flying by! I honestly can't believe I've been doing this Vegetarian Challenge for almost a month already. Week three went by quickly, as my attention was focused on chaos elsewhere, but I feel like I'm finally getting...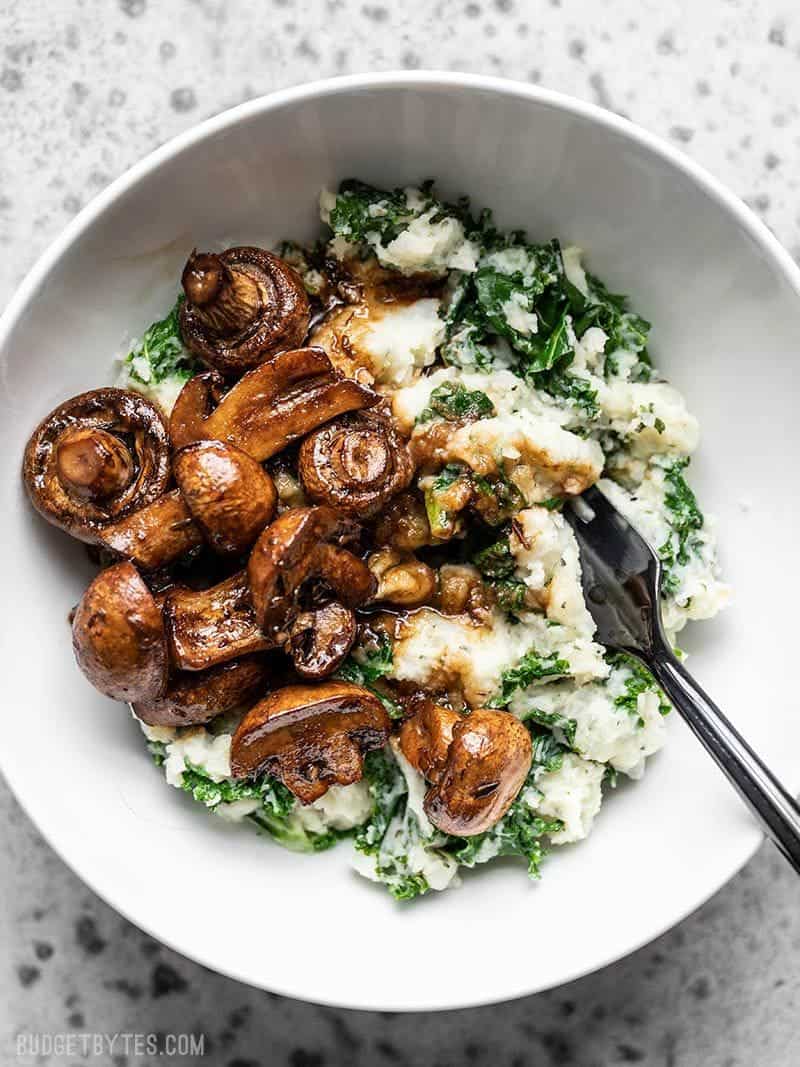 Balsamic Roasted Mushrooms with Herby Kale Mashed Potatoes
While planning my menu for week 3 of my Vegetarian Challenge, I took inventory of my pantry and noted that I still had about two pounds of potatoes left over from week one that needed to be used ASAP. I decided to make a version of my Fluffy Garlic...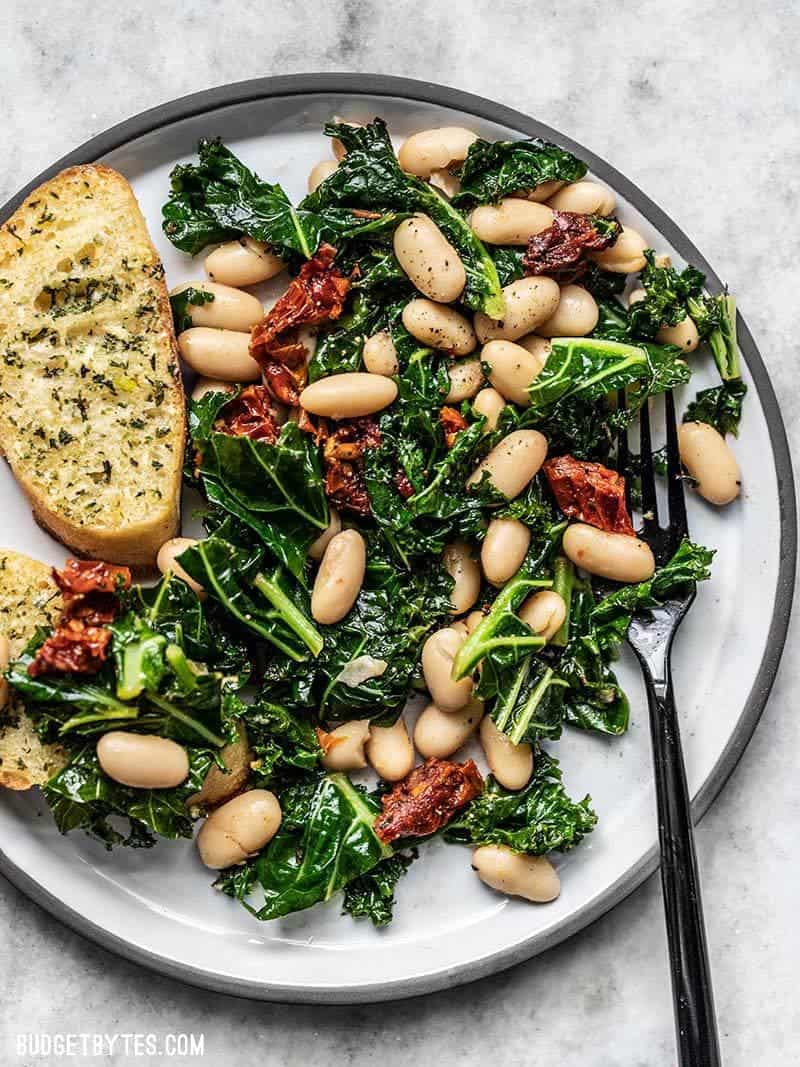 Sun Dried Tomato, Kale, and White Bean Skillet
Sun dried tomatoes are a fairly expensive ingredient, but I think this recipe perfectly demonstrates how higher priced ingredients, when properly combined with less expensive ingredients, can still be used to make affordable recipes. This warm Sun...