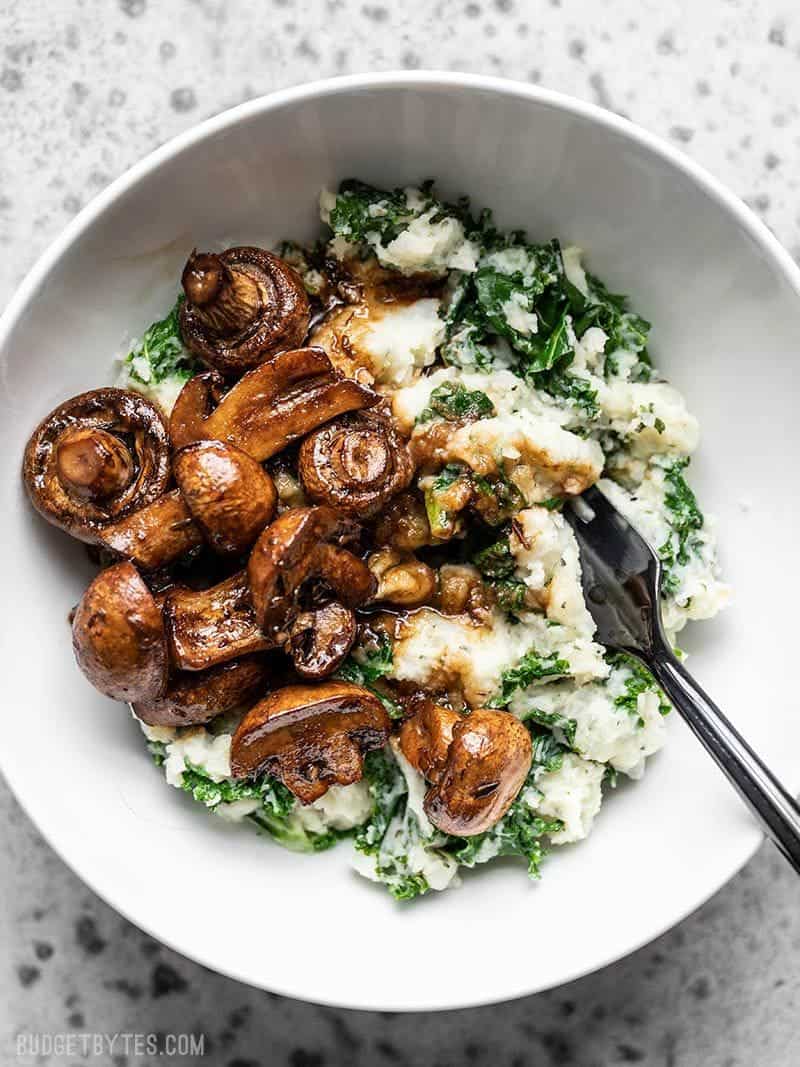 Balsamic Roasted Mushrooms with Herby Kale Mashed Potatoes
While planning my menu for week 3 of my Vegetarian Challenge, I took inventory of my pantry and noted that I still had about two pounds of potatoes left over from week one that needed to be used ASAP. I decided to make a version of my Fluffy Garlic...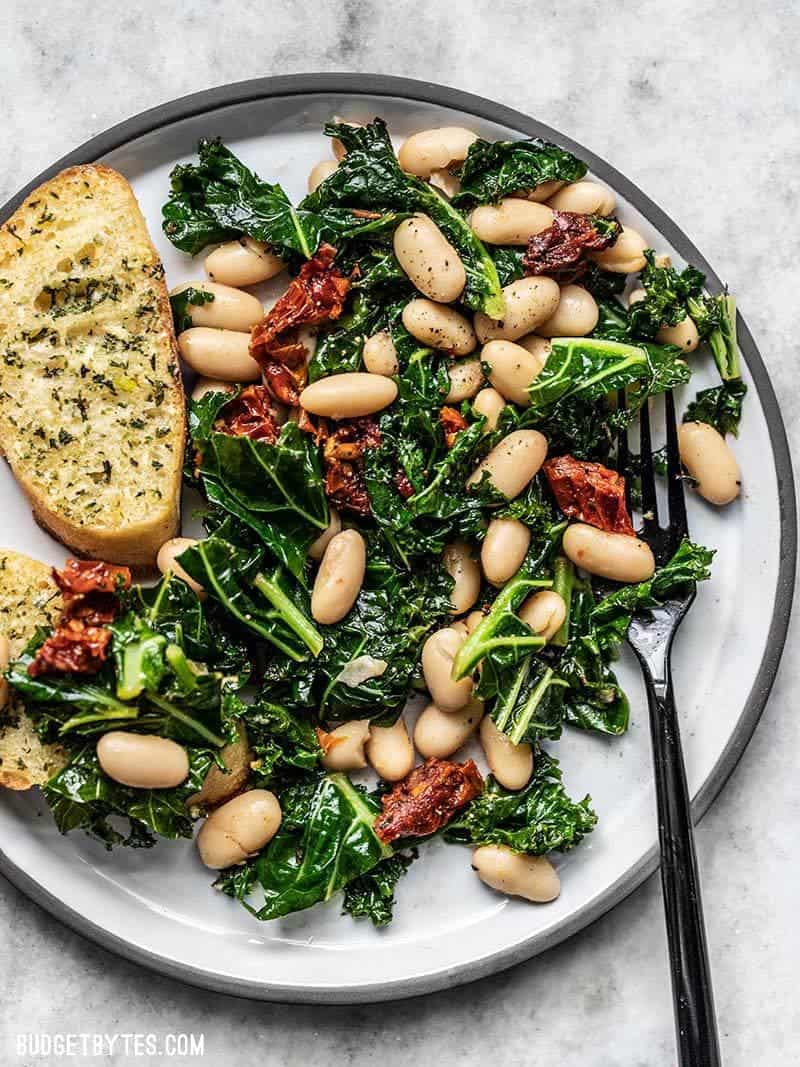 Sun Dried Tomato, Kale, and White Bean Skillet
Sun dried tomatoes are a fairly expensive ingredient, but I think this recipe perfectly demonstrates how higher priced ingredients, when properly combined with less expensive ingredients, can still be used to make affordable recipes. This warm Sun...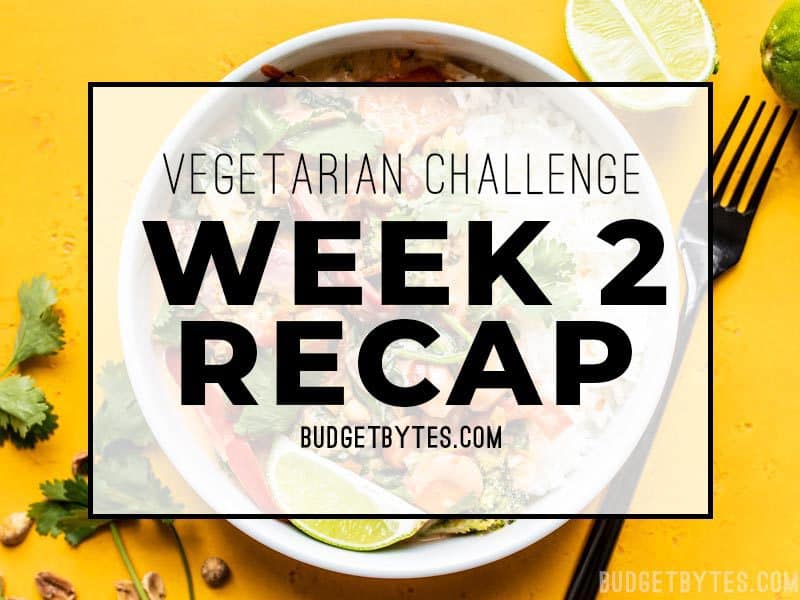 Vegetarian Challenge Week 2 Recap
Week 2 of the Vegetarian Challenge is complete! I can't believe we're already half way done! I had a completely different experience in week 2 than week one, so let's jump right into that week 2 recap! Summary: I had a couple...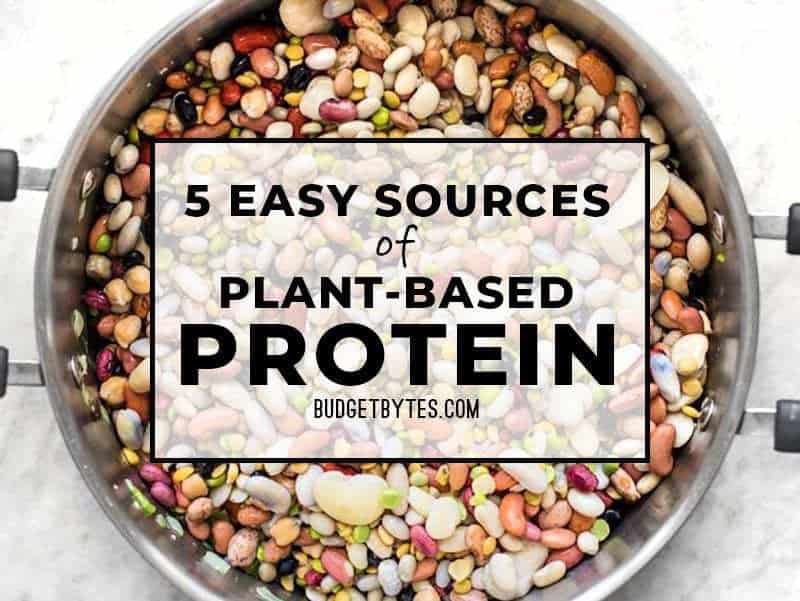 5 Easy Sources of Plant-Based Protein
One of the biggest hurdles most people encounter when contemplating a vegetarian lifestyle, or even just practicing a "meatless Monday" is the question, "Where would I get my protein"" So I wanted to write this quick,...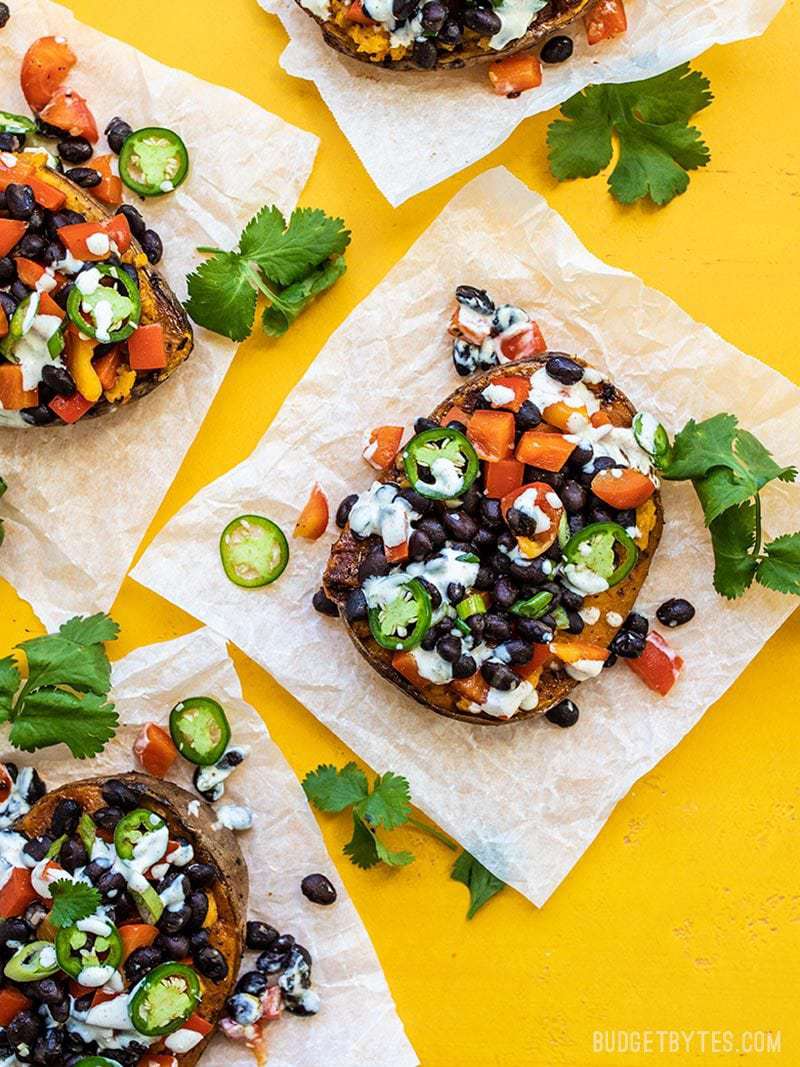 Loaded Sweet Potatoes with Chipotle Lime Crema
These Loaded Sweet Potatoes with Chipotle Lime Crema are the perfect meal prep item, since they're already pre-portioned and ready to go. There are a lot of options for toppings and seasonings with this recipe, so get creative, use up whatever...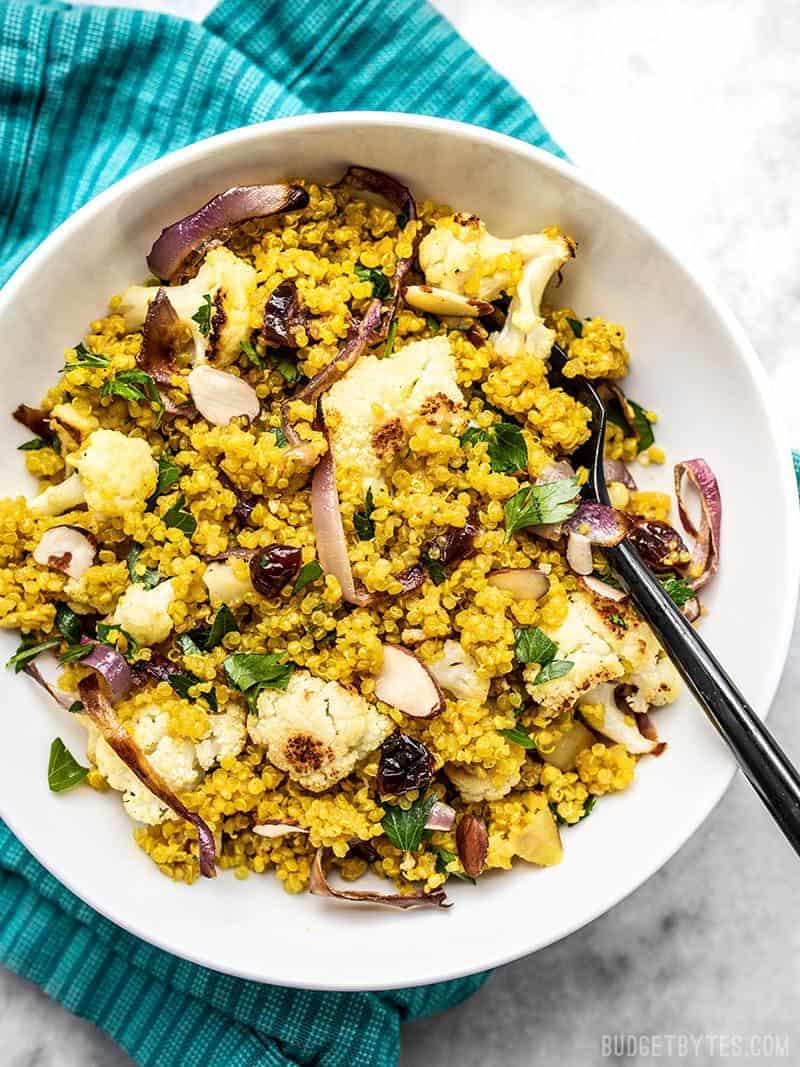 Roasted Cauliflower and Quinoa Salad
For week 2 of my Vegetarian Challenge, I knew that I wanted a "refrigerator salad." By that I mean a salad that I can prepare in the beginning of the week and will hold up well in the refrigerator for several days. Building the salad on...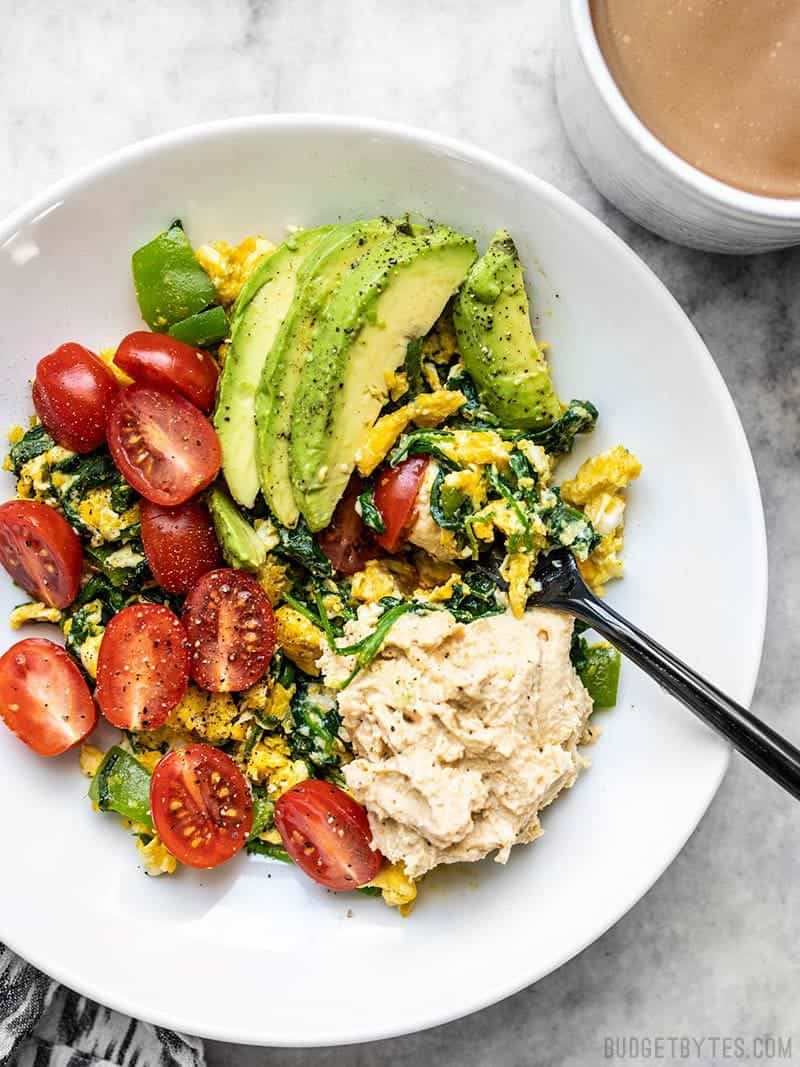 Vegetable Breakfast Scrambles
Many of my day to day meals are just a hodgepodge of random ingredients that I find in my fridge all thrown into a bowl or a wrap. While I don't really consider these "recipes," they might spark some inspiration for some of you, so...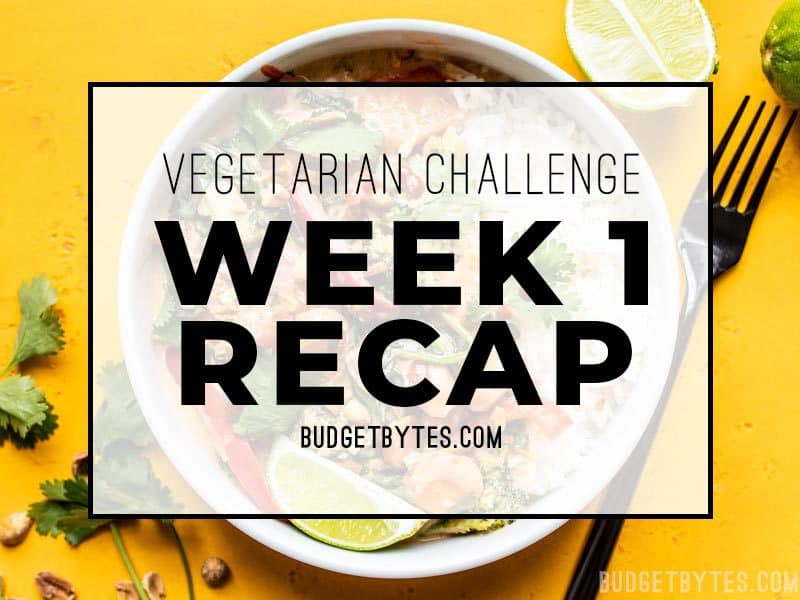 Vegetarian Challenge Week 1 Recap
Welcome to the first Vegetarian Challenge Weekly Recap! Buckle up because it's going to be a looooong post! TL;DR: This week was full of the unexpected, but I rolled with the punches and made adjustments where necessary. I really enjoyed the...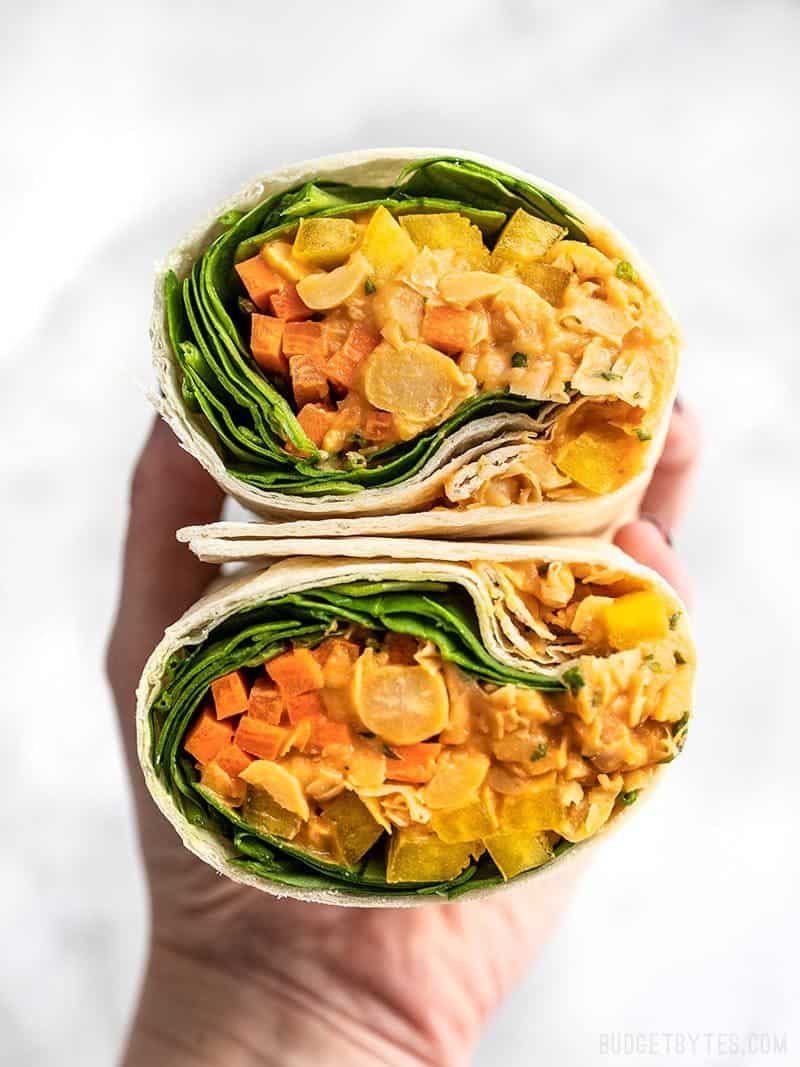 Sriracha Chickpea Salad Wraps
Here's a little quickie for you today from week 1 of my 31 Day Vegetarian Challenge! These creamy and spicy Sriracha Chickpea Salad Wraps are super fast and easy to make, perfect for cold lunches to bring to work, and can be customized to...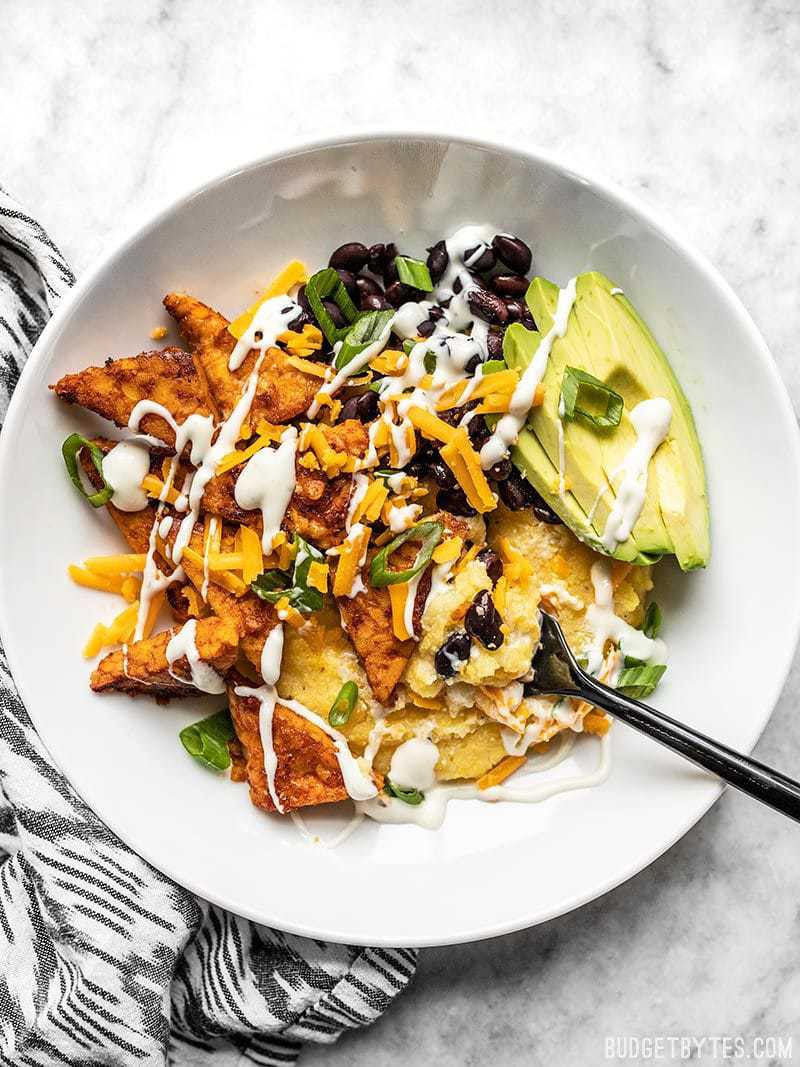 Sweet and Spicy Tempeh Bowls
Happy New Year! My 31 Day Vegetarian Challenge officially starts today and I have to say, the first recipe I made for the challenge, Sweet and Spicy Tempeh Bowls, is pretty killer. I chose a bowl meal for my first meal of the month because...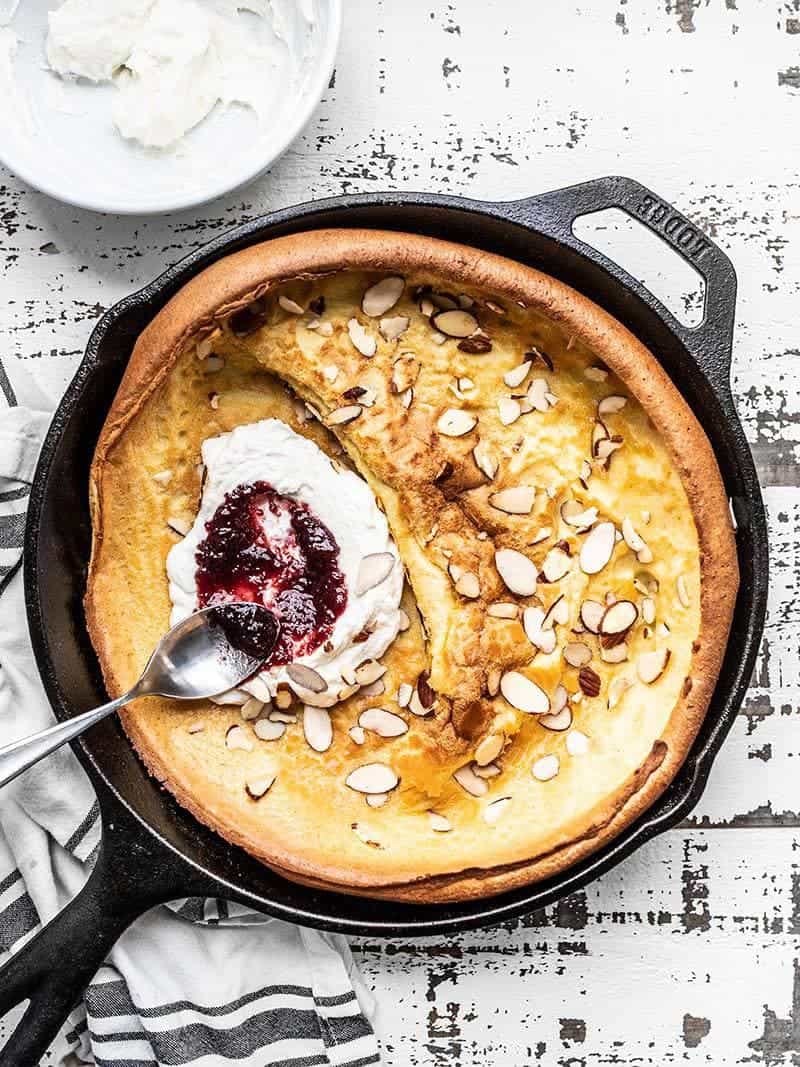 Almond Dutch Baby with Ricotta and Jam
I've been a little obsessed with Dutch Baby Pancakes lately. They're just so easy and fun that they make the perfect weekend breakfast splurge. And I'm all about doing up breakfast big on the weekend. I've made one per week...
Best of Budget Bytes 2018
Whoa. Did you just see that"" That bright flash was 2018, gone just as quickly as it came. 2018 was kind of a wild ride, but it left me with a lot to be grateful for, including some really killer recipes. :) Each year I like to go back...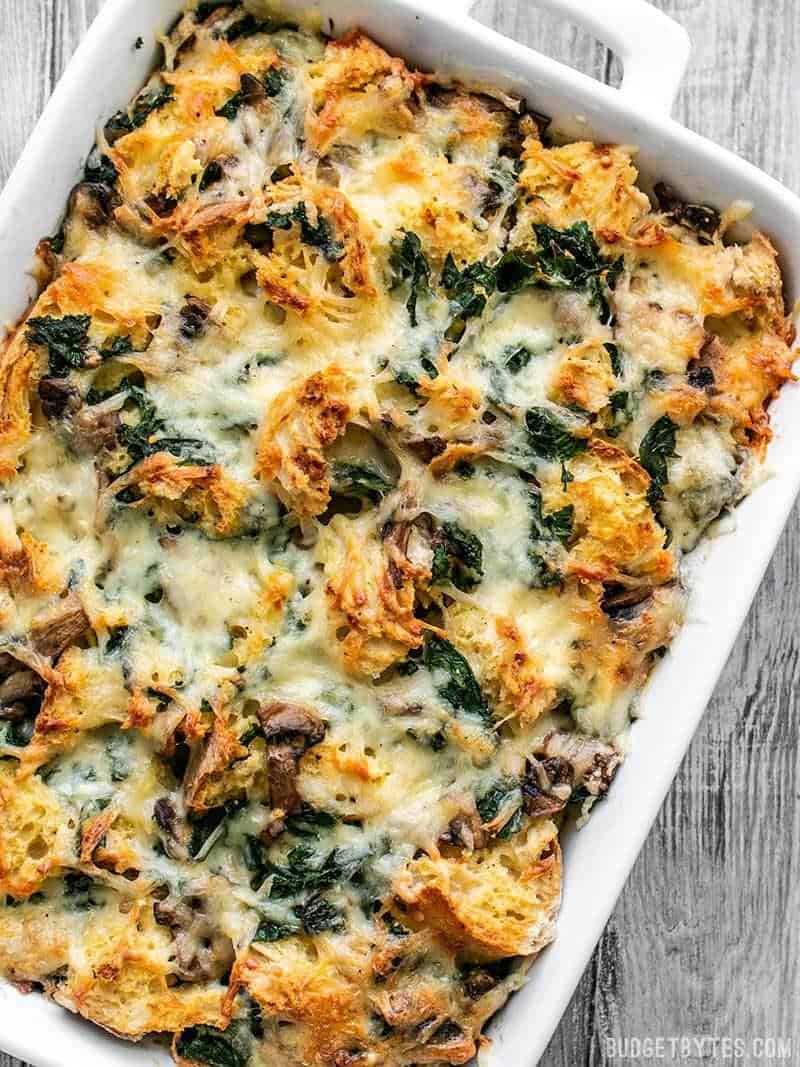 Kale Swiss and Mushroom Strata
Whyyyy don't we have smell-a-vision yet" I feel like if you could smell this Kale Swiss and Mushroom Strata as it baked, it would be a total game changer. Forget photos, just smell it. I've been eating this Kale Swiss and Mushroom...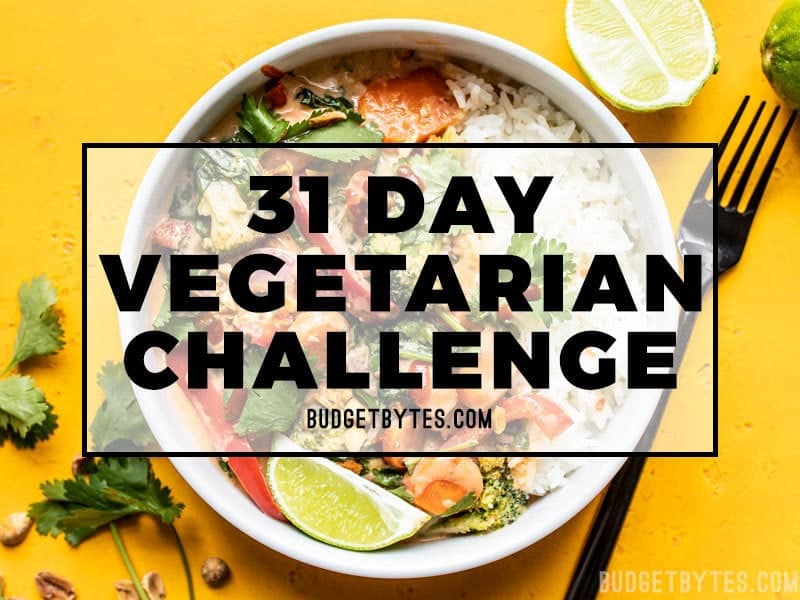 Coming Soon: 31 Day Vegetarian Challenge!
You guys know how much I love a challenge, right"" I haven't done a challenge in a couple of years, so I was kind of itching to do something new. January is the perfect time for resolutions and challenges because there's...
BBQ Beef and Cabbage
Hi, my name is Beth and sometimes I eat weird things. But if ten years of blogging has taught me anything it's that a surprising number of you also like to eat weird things. After all, getting experimental in the kitchen leads to some of the...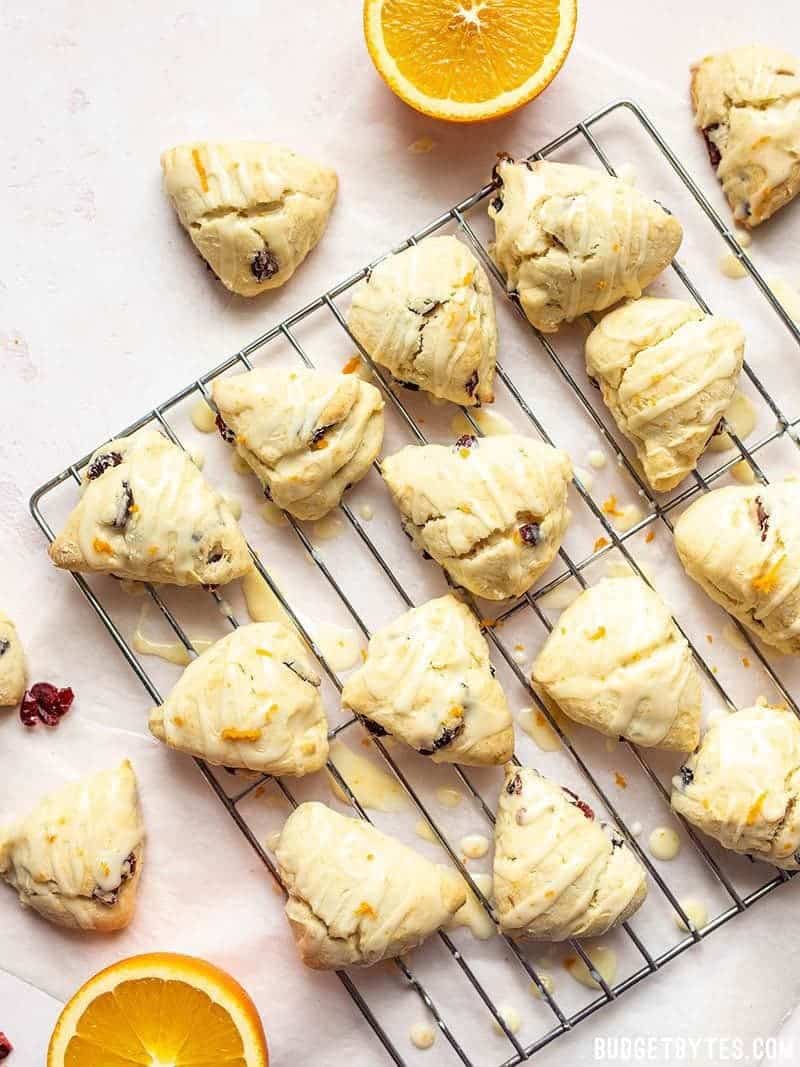 Cranberry Orange Cream Scones
One of my favorite things about winter is cranberry-orange everything. That flavor combo is like a little bright spot in the middle of the cold harsh winter, and I can't get enough. I decided to make my favorite mini two-bite cream scones in...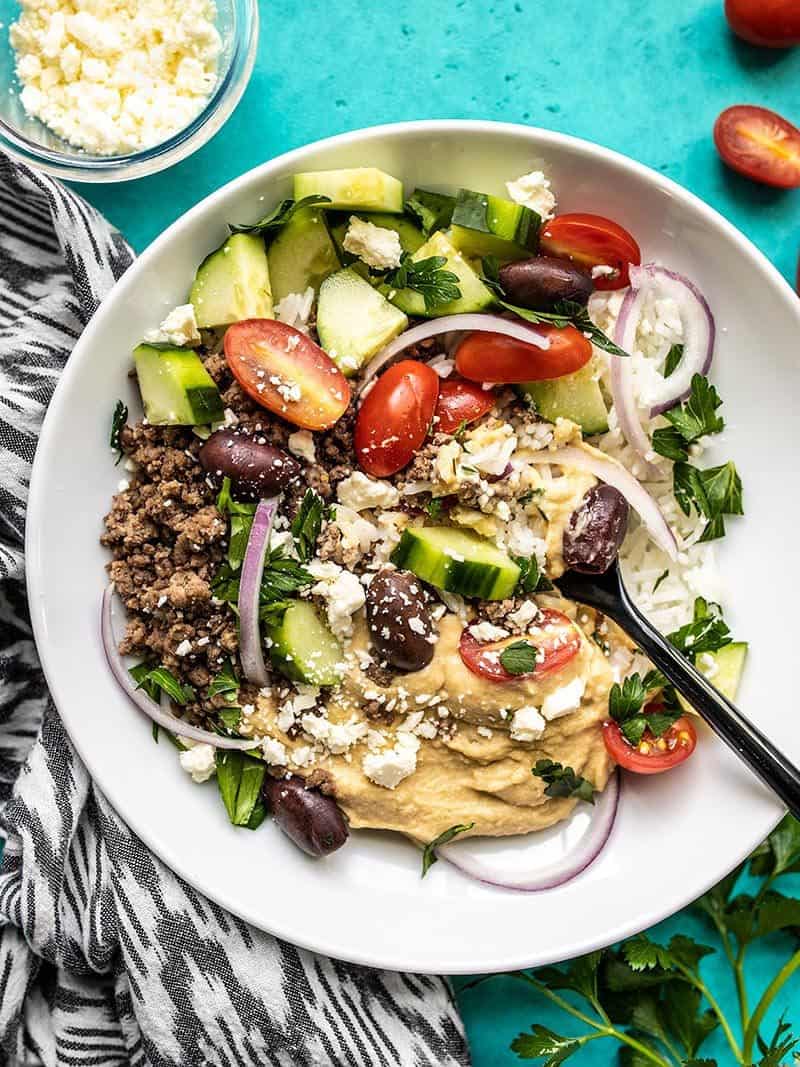 Mediterranean Hummus Bowls
Y'all know I'm all about the bowl meals, right" It's pretty routine for me to just go into my fridge, grab whatever odds and ends I have, and throw them into a bowl for a meal. They usually have some sort of base (a grain or...
Take Out Fake Out Recipes for Busy Nights
Take out food is so tempting because it's fast, easy, and usually very satisfying (the most comforting of all comfort food). But it can also be a budget killer. So, when you're tempted to dial for take out or you find yourself browsing...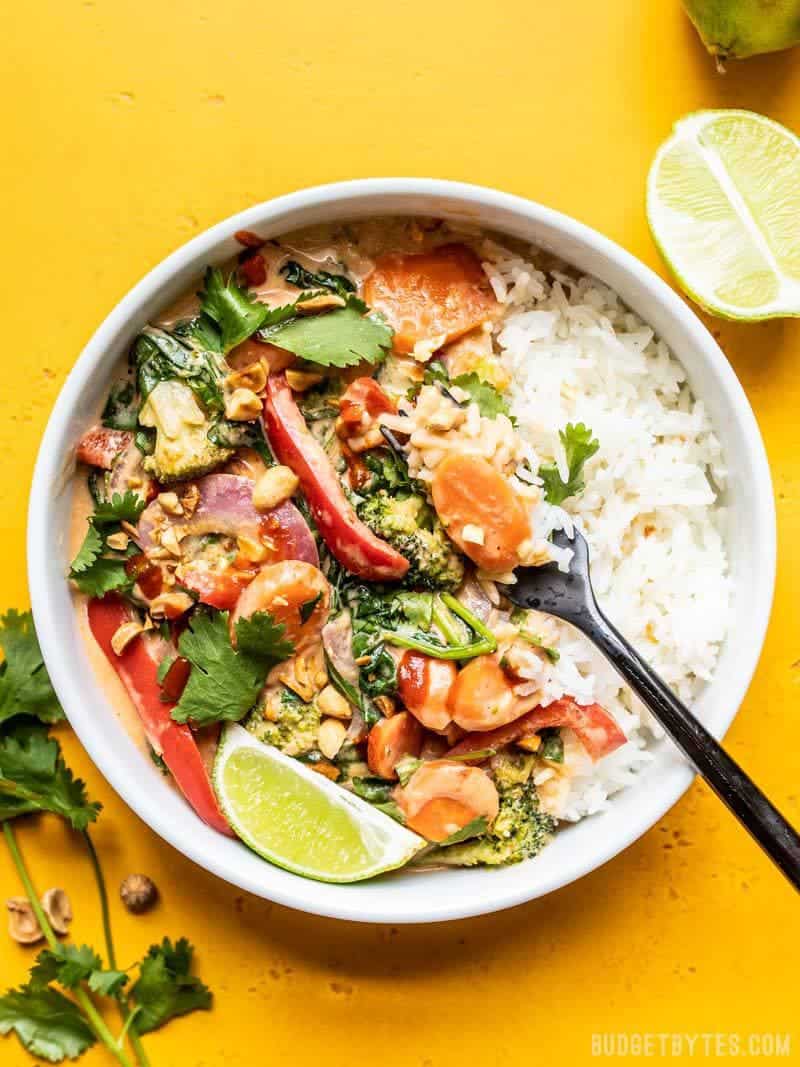 Spicy Coconut Vegetable Stir Fry
I found myself with a handful of leftover vegetables in my fridge this week, so you know what that means?STIR FRY TIME! I went extra tropical this time, to escape these winter blues, with a spicy coconut and peanut sauce, complete with fresh lime...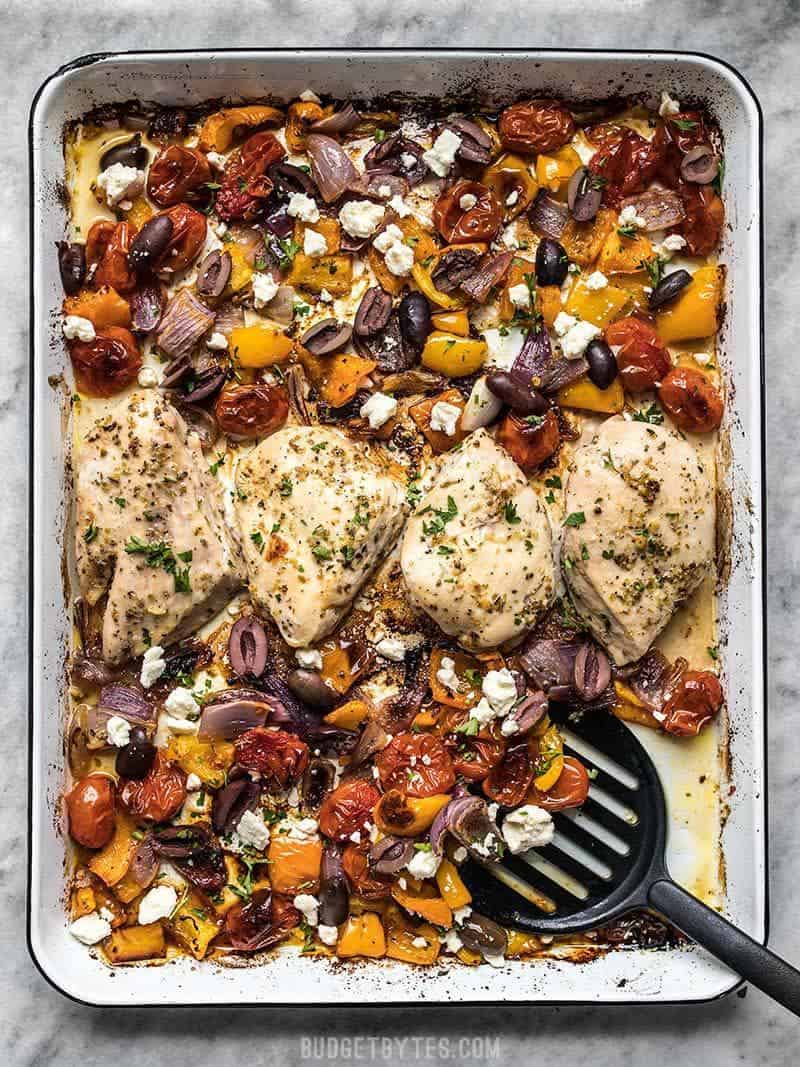 Sheet Pan Greek Chicken and Vegetables
I'm all about the simple meat and vegetable dinners. By changing up the seasonings, the mix of vegetables, and cut of meat, you can have an endless number of simple go-to meals. This week I combined my favorite lemon-garlic-oregano marinade...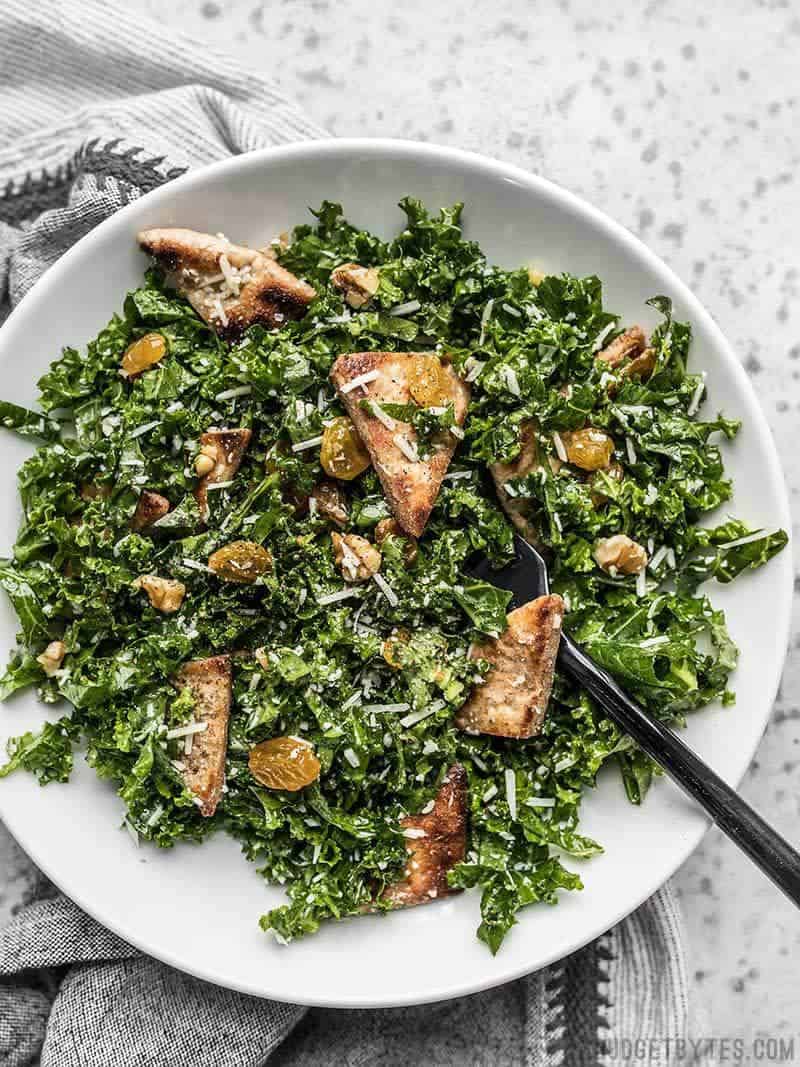 Kale Salad with Toasted Pita and Parmesan
This salad is totally giving me life right now! While I love the warm comforting foods of winter, after a few weeks of all those heavy roasted and stewed foods I start craving fresh vegetables HARD. So today I picked up a $0.99 bunch of kale and...
Giant Slow Cooker Meatballs
I don't know what it is with me and meatballs lately, but here we are again. #sorrynotsorry This weekend I made these deliciously Giant Slow Cooker Meatballs, which are a fun way to change up a simple spaghetti and meat sauce dinner. The...