Stuffed Zucchini with Toasted Walnuts & Feta
  We used to have some really good friends when we were living down South and I was working at the Manor.  If you have been reading my blog for a while now you will probably remember me mentioning them.  They were two sisters called Hazel and...
Mexican Chicken Club Flatbread
  I am a HUGE fan of Mexican/Latin American flavours!  I have never been to any of the Latin American countries myself, so my idea of Mexican food is probably a highly Anglicised version!  I do like to experiment with the flavours which is...
Spinach, Onion & Feta Oven Omelets
 These tasty oven omelets make a great supper on a busy day!  Not only are they quick and easy to make, but they are also very delicious! We love them! You could use frozen spinach for them if you wanted to, but I prefer to use fresh.  Its...
Can WeTalk"
 I\'ve been thinking a lot lately about blogging and food blogging in particular.  I started this particular food blog about 11 years ago now, but have been food blogging in general for I guess about 15 years altogether.  For most of that time...
Coconut & Lemon Cake
 I decided to bake a cake for Todd so as to make up for having baked Brownies the other day. He is not fond of chocolate as you know.  He loves coconut, and so I decided to bake him a Coconut Cake. I had seen a recipe a few weeks back on Clodagh...
Rocky Road Brownies
 I was so embarrassed today.  We went to the grocery store this morning to do my weekly shop, only to have my card turned down at the cash register.  Not once, but twice. And then we tried Todd\'s card and his was turned down also. Has that...
Pizza Muffins
 The recipe I am sharing with you today is one that the whole family is going to enjoy, especially if they are pizza fans!  It is a small batch recipe in that it only bakes 8 perfect medium sized muffins. Of course you can double the recipe to...
Beef Miroton
 As I mentioned yesterday I cooked Todd a Roast Beef Dinner at the weekend for Father\'s Day.  We don\'t have any children of our own, but he\'s a pretty good dad to our Mitzi so why not celebrate that!  I didn\'t do a pot roast this...
Enjoy! Chocolate You Can Feel Good About Eating!
  Imagine having so many food intolerances that you were deprived of eating many of your favourite foods including (perish the thought!) chocolate!!!!  This was the case of a man named Chris.  He suffered from countless food intolerances...
Creamed Cabbage
  I cooked Todd a Roast Beef Dinner for Father\'s Day at the weekend, with all the trimmings.  Even Yorkshire Puddings.  He was in Man-Food Heaven!   He loves my roast beef and my Yorkshires!  These are recipes I learnt from my late FIL who...
Pork Chops & Sauerkraut
 I have always adored Sauerkraut.  My grandfather used to make his own and kept it in a crock down in the cellar of their home. My mother often told the story of her being ill as a child and her Grandmother giving her some of the brine from off...
Easy Chicken Gyros
 I think I am becoming more adventurous in my old age when it comes to food.  That\'s probably because I don\'t have fussy children in the house to please any more.  Todd is not a fussy eater.  He doesn\'t really like pasta or chocolate,...
Maple Walnut Muffin for Dad
 Happy Father\'s Day to all you dad\'s out there!  I know some people think that days like this are just a huge money grab for retailers, but I don\'t care.  I love to celebrate my dad each year in a special way.  Oh, I know  . . .  I...
Moroccan Orange Cake
 I am willing to guarantee that you are going to fall abso-flippingly in love with this simple cake I am sharing here with you today.  GUARANTEE!  Not only is it a very simple cake to make, but it has to be one of the moistest, most flavourful...
The Best Tartar Sauce
  The recipe I am sharing today is one I developed when I worked down South at the Manor. I used to make it when I was making them Cod Cakes or even just pan frying fish. They loved it. No surprise there. It\'s totally delicious!  Homemade...
Maple Baked Beans on Toast
 Some days are just busy.  The last few days this week I have been busier then a "Hen hauling wood" as my old friend Leona would say!  Writing articles, doing laundry, appointments, etc. They say there is no rest for the wicked!  I must have...
Croque Madame Pizzas
 I adore Croque Madame Sandwiches.  A Croque Monsieur Sandwich is a fried ham & cheese sandwich topped with a layer of bechamel and grilled.  It becomes a Croque Madame when you add a fried egg to the top.  Yes  . . .  not for the weak of...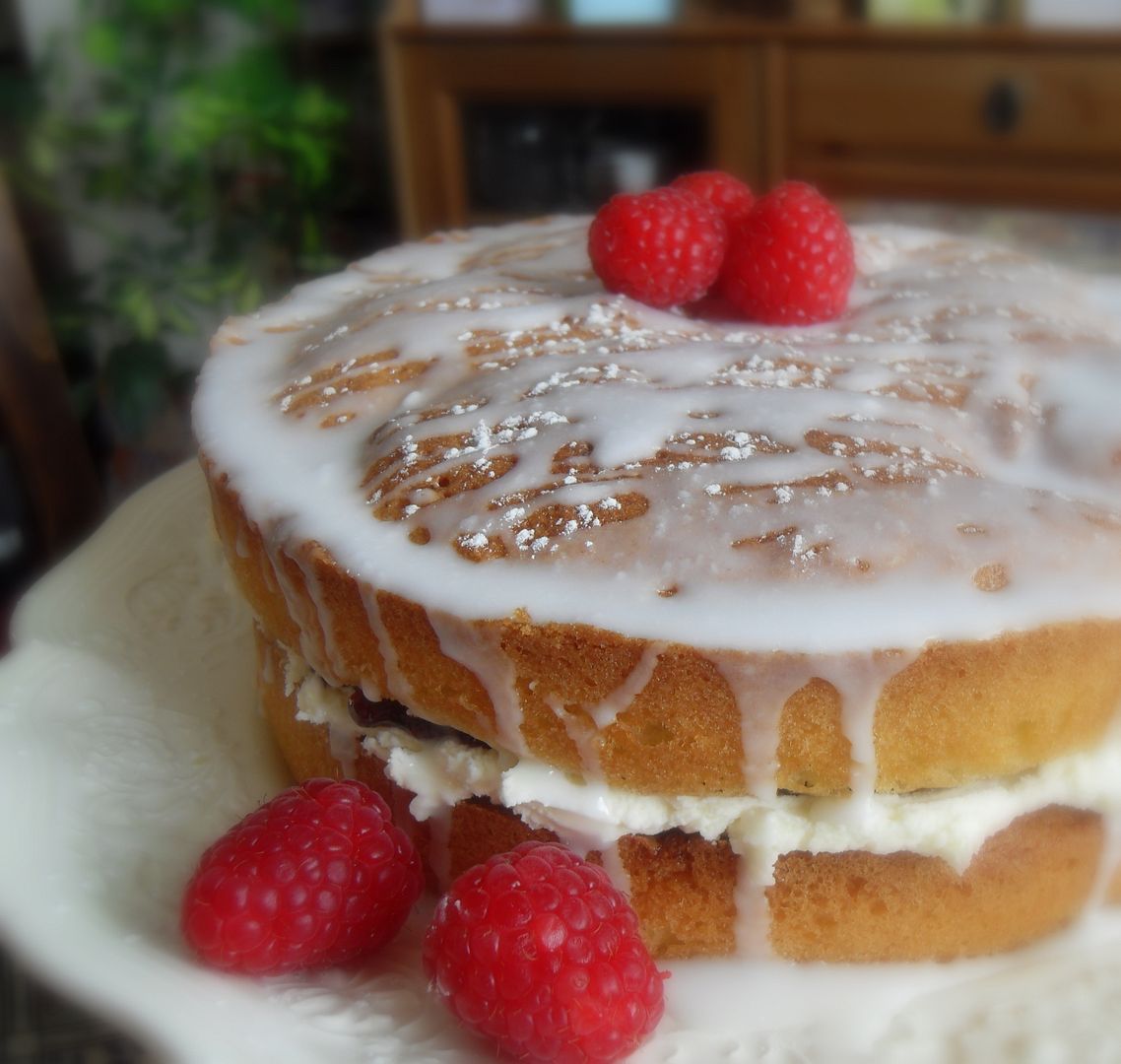 Baking Swaps for Healthier Homemade Treats!
  Queen CakesDiagnosed with Type 2 Diabetes several years ago, I have been on the constant search since then for ways to enjoy the baked goods and treats that I have enjoyed throughout my lifetime. Especially during the holidays and on special...
Honey Mustard Chicken & Potatoes
 I can remember the first time I tasted Honey Mustard. It was at my SIL\'s place in Toronto and it was Honeycup Mustard and I have to say it was love at first taste!  It was sweet and hot and I love, LOVE, LOVED it! I quite adore Honey Mustard...
Beetroot, Goat's Cheese & Toasted Walnut Salad
   I think one of my favourite salad combinations has to be fresh greens tossed together with roasted beetroot (beets) and goat\'s cheese.  For a girl who only ever ate processed cheese slices and Velveeta cheeses (if you can even call them...
Lemon Lime Shortbreads
 Today (Saturday as I write this) we were able to watch the annual Trooping of the Colours on the television with the Birthday Parade for the Queen at the Horse Guards Parade in London, down the mall from Buckingham Palace.   NOBODY does...
Irish Tea Brack
 You are going to love this recipe I am sharing with you today.  It is Irish Tea Brack, and as one would suppose hails from Ireland. (Have I ever told you our landlord is Irish")  It is a very traditional Irish recipe which is kind of a cross...
Macedonian Fruit Salad
 This is a fabulous recipe that really goes together quickly and that your family will love. You can serve this either for breakfast spooned over some yogurt or cereal, or even pancakes.  Or on it\'s own with a dollop of yogurt on top or a...
Madeira Cake
 One of my favourite of all the British cakes has to be Madeira Cake.  It is a very easy cake to make and quite unremarkable to look at, but when done properly it is quite simply a lovely cake.  I find it very reminiscent of North American Pound...
Crustless Veggie Quiche
 Today I decided to make us a delicious crustless vegetable quiche for our dinner.  Well, actually I made it for me as Todd was having the leftovers from yesterday.  I fancied something quick, easy, delicious and a tiny bit...