A Lower Fat and Sugar Roly Poly Bread and Butter Pudding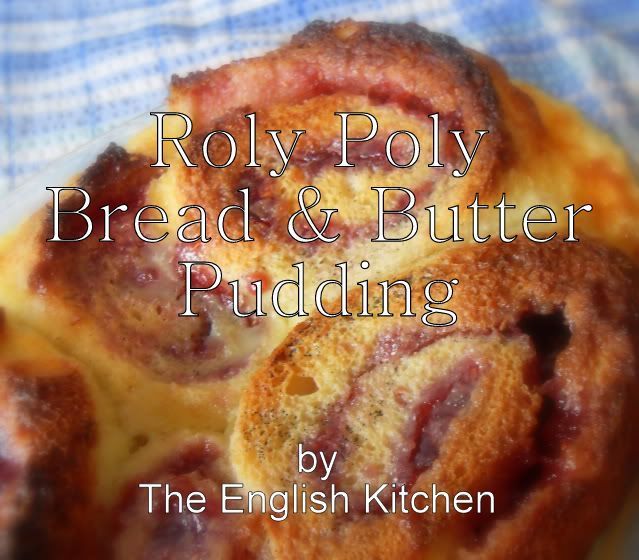 I've been experimenting here and there, trying to come up with lower fat and sugar versions of some of our favourite treats, thinking that Todd could benefit from them as well, even though he doesn't have to watch his sugar intake, he does have to watch his cholesterol.

Roly Poly Bread and Butter Pudding is a love of his. He loves bread and butter pudding to begin with and he adores jam on or in anything.

I thought I would make his favourite dessert in a lower fat, lower sugar version to see how it turned out.

It turned out really nice. It's composed of lovely little buttery roly poly bread and raspberry jam sandwiches laid on a bed of more raspberry jam, covered in a sweet vanilla custard, and then baked until it all souffles up in a rich cloud of baked custardy goodness . . . soft and creamy inside, with lovely buttery sweet crunchy bits on the outside.
Just one problem . . . when I did the analysis of the calories etc. it was still fairly high in sugar. I guess diabetic jam isn't much better for you than regular jam. One shudders at the amount of sugar which must be in a regular version of this.

It was a valient attempt however, and I did enjoy a small spoonful of it. I think actual mashed fruit might be better . . . I'll have to try it again using that and see.

You really couldn't tell much difference between it and the regular one taste wise. So, in that way I would call it a success.
...
URL:
http://theenglishkitchen.blogspot.com
--------------------------------